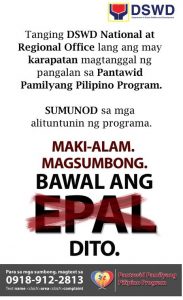 Relative still to the ongoing implementation of Bawal ang Epal Dito campaign, the FO2 is employing different mediums to ensure that the Pantawid Pamilyang Pilipino Program will be spared from undue politicking for the upcoming May elections.
Aside from the regular tri-media guestings and interviews and production of news releases, the Field Office also started distributing tarpaulins and flyers to the 83 municipalities and 4 cities covered under the program.
The Field Office also sent communication to the local chief executives regarding the implementation of the campaign and eventually seeks for their full support to take part in its advocacy by not claiming that they have a hold in the selection and removal of beneficiaries in the program.
The "Bawal ang Epal Dito" campaign highlights on the message that only DSWD has the right to remove beneficiaries from the program [Tanging DSWD lang ang may karapatan magtanggal ng pangalan sa Pantawid Pamilyang Pilipino Program] and not any politician who threatens the beneficiaries of being delisted unless they will give their support.
The campaign would also like to empower the knowledge of the beneficiaries that they will not be removed from the program unless they are compliant with the conditions for health and education.
Meanwhile, the messages of the campaign were also conveyed to the beneficiaries during the conduct of Family Development Sessions.
The Pantawid Pamilya is a human development program of the national government. It is also a social protection strategy that invests in the health and education of poor children age 0-14 years old. It is widely known as the Philippine conditional cash transfer program and operates in 1,605 cities and municipalities in 79 provinces in all 17 regions nationwide.
In region 02, the program has a total of 92, 143 households beneficiaries from the provinces of Cagayan with 30, 398; Isabela with 43, 670; Quirino with 6, 548 and Nueva Vizcaya with 11, 527 household beneficiaries as of March 1, 2013, respectively. ###By MARICEL B. ASEJO, Pantawid Information Officer II