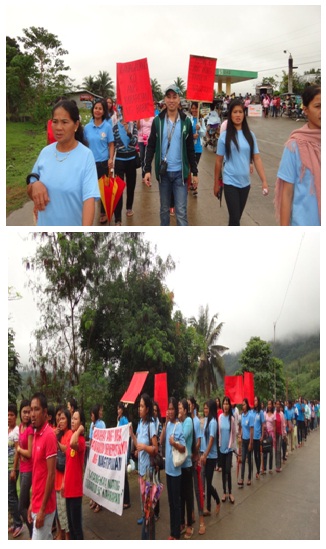 In photo: "We believe in the equal rights of men and women", yells the Pantawid beneficiaries during the parade around Nagtipunan, Quirino.
NAGTIPUNAN, Quirino– The beneficiaries of Pantawid Pamilyang Pilipino Program from this municipality joined in the observance of Women's Month by advocating Gender Equality and Equity during the 30th Founding Anniversary of the province.
Every Pantawid Pamilya parent group prepared slogans which underscore the value of women in the society. Some messages highlighted respect for women: "Iginagalang ko ang karapatan ng mga babae" (I respect the rights of women), while others promoted the importance of women in the society: "Kababaihan, Kaakbay sa Kaunlaran" (Women, Partners for Development) and "Lakas ng Kababaihan, Lakas ng Bayan" (Strong Women is a Strong Society).
Also, the beneficiaries showcased respect for their better half with slogans bannering the message "Ako ay Pantawid Beneficiary: naniniwala ako sa pantay na karapatan ng babae at lalaki" and "Mahal ko ang aking asawa/pamilya". Some slogans were also translated to their native dialect of the beneficiaries such as "Bigbigbigek ti karbingan ti maysa a babae. Hagiyo!"
"Kaya ng Nagtipunan Tumawid sa Kaunlaran" (derived from the program's battlecry "Kaya ng Pinoy Tumawid sa Kaunlaran) was also emphasized during the said event.
The activity aimed to create awareness on the significance of women in the world, and to empower them further to become more participative individuals for nation building.
Meanwhile, the beneficiaries were accompanied by Mr. Arvin Longcop, their Municipal Link and by Cherish G. Macarubbo, Social Welfare Assistant, respectively.
Nagtipunan, is a first class municipality in the province of Quirino. The celebration commemorated the separation of Nagtipunan from the municipality of Maddela, Quirino as a new municipality 30 years ago. ### By ARVIN T. LONGCOP/ Municipal Link, Nagtipunan, Quirino