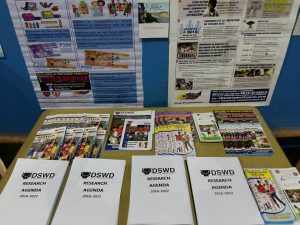 Recognizing the importance of research on the development of appropriate and relevant social welfare and development programs and policies, the Department of Social Welfare and Development Field Office 02 thru its Policy and Plans Division recently called on various National Government Agencies (NGAs), Local Government Units (LGUs), Civil Society Organizations (CSOs) and Academic Institutions for a Regional Consultation Workshop for DSWD's Research Agenda 2-17-2022.
The said consultation aims to encourage partners and stakeholders interested in conducting researches on DSWD's social protection programs to align their studies with the Research Agenda.
The research topics were anchored on the identified research themes of the draft DSWD Research Agenda for 2017-2022 such as social protection policies, social protection programs, stakeholders' empowerment and organizational development.
"The significance of these researches lies in these studies being used for policy and program development as they provide evidence-based statistics, data, or information. Likewise, they serve as a basis for the enhancement of existing policies internal to the Department or for the development of new ones, spur policy discussions," said Ms. Zoe Dominique Cunanan, Research Officer III of DSWD Central Office. ### By: Gela Flor R. Perez, Regional Information Officer II