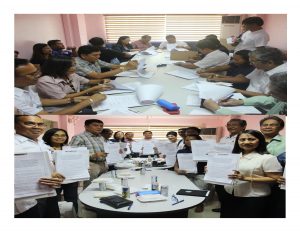 The member agencies of the Inter-Agency Council on Violence against Women and their Children (IAC VAWC) forged a Memorandum of Agreement (MOA) as the monitoring body monitoring with regard to all VAWC initiativves.
The said show of commitment was held at the Department of Social Welfare and Development Field Office 02 on August 8, 2016 with a good number of directors of line agencies affirming its support for the welfare of women and children.
Addressing the members of the Council, OIC Regional Director Ponciana P. Condoy expressed her gratitude and acknowledged the efforts of every member-agency in pursuing the welfare and best interest of the women and children in the region.
"As members of the Council, we should endeavor to develop capability programs for our employees to become more sensitive to the needs of our clients," Condoy said. ### By: Gela Flor R. Perez, Regional information Officer II