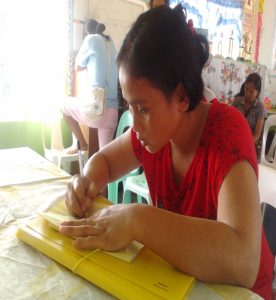 As the saying goes, "Everything will always have an exemption." In law, in a set of rules, traditions, what's more, it has been a cultural thing, passed on from one generation to the next. It has become a way of life, a pretext for certain behavioral pattern of social stratification and in graver scenarios, social exclusion.
One such case is that experienced by Rosalinda Despa of Baranagay Lurad, Diadi Nueva Vizcaya; in her mid-thirties, she is a mother of four, a devoted wife, a proud homemaker of a modest home, a devout Roman Catholic and a meek law abiding citizen of the community.
She was born to a poverty-stricken household of the same community, growing up only to set foot in a classroom at the age of eleven years. Whilst most of her classmates aged 6 to 7 were still mastering gross motor skills, she was already experiencing the early stages of puberty. A phase that generated ridicule from peers, especially from her classmate's parents. "She should be exempted (from academic awards) because she's too old to compete!" , "She is not fit to mingle with small children!", "She should be homeschooled instead!" were some of the more scathing remarks.
Finally after fourth grade, with the advice of her parents and the burden of expanding household expenses, she decided to stop altogether. Despite that, every day she would watch students hustling about to school asking herself, "Are dreams only for the young? Should there be an age limit to aspire greater things?" The way she was left out by others made her feel she should also be excluded from dreaming, to forget aspiring for herself.
For years she resigned herself to what society expected of her, suppressing her voice, silently despairing at her misfortune. Always convincing herself that it was okay to disregard her own desires and that poverty will always be an obstacle she can never overcome. She fell in love, got married to a modest but honorable man, and together started a family where she began anew.
Fast forward to the day she came to know that her family was considered to be a part of the Pantawid Pamilyang Pilipino Program (4Ps). It was like a window has opened up for her and her family because with the program providing adequate support in ensuring the kids' education, she knew her children had better chance in succeeding than she ever had. For her, it was a simple victory.
Then she got to attend the Family Development Sessions (FDS). It was an informal way of learning but she looked forward to attending the sessions. It was like going to class at her own convenience without dreading how her co-participants would react. There was no discrimination based on educational attainment, age or gender. Everybody was given the chance to interact and learn from each other without any judgment or bigotry.
Being an elementary undergrad, she would abstain from interfering with her childrens' schoolwork, apprehensive that her aid might do more damage than benefit. But with the knowledge she gained through the FDS, she would just consult her tala-arawan and gain enough confidence to support her statements.
This was her triumph, her dream, to mean more than just a homemaker or a child-bearing woman. She knows now that she is able to contribute meaningfully as a wife, a mother and a partner. But her dream does not end here, she is beginning to aspire more, greater than the last, she now knows there are no qualifications to dream, there are no exceptions. ### By: Jeanet Antolin-Lozano, Information Officer – Pantawid Pamilya