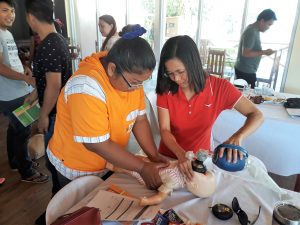 In order to strengthen the core of personnel in the agency tasked with emergency response during disaster situations, the Department of Social Welfare and Development Field Office 02 (DSWD FO2) conducted a training on Basic Life Support and First Aid last May 22-25, 2018 in Sta. Ana, Cagayan.
The said training was in partnership with the Department of Health (DOH) Region 02 who sent trained personnel to act as resource people for the four-day event.
Part of the training was the demonstration and actual mock performance of the trainees on proper cardiopulmonary resuscitation (CPR). The CPR combines chest compression to keep the blood flowing until heartbeat and breathing can be restored while rescue breathing provide oxygen to the lungs.
The training explained the differences between rescuing an adult and an infant and the proper techniques to save both. The trainers also reiterated the importance of knowing how to properly do life support and first aid to increase the chances of survival of a victim and to minimize inflicting more damage.
The participants were also required to do drills every morning to prepare them for the rigorous activities in line with the training.
In his speech, Mr. Rommel Gamiao of the field office's Disaster Response and Management Division (DRMD) urged the trainees to link what they have learned to the mandate of the agency and the programs and services that it has.
An earlier training of the same was conducted last May 8-11, 2018, also in Sta. Ana, Cagayan. ### By: Chester Carlo M. Trinidad, OIC-Regional Information Officer