Sto. Nino, Cagayan – Days of sunlight allowed field workers in this town to finally reach Barangay Lipatan, which was unreachable for days because heavy rains made the river that connects the town to the barangay dangerous for boats to cross.
Members of the Municipal Action Team (MAT) of Sto. Nino had to load family food packs into boats that had to cross the river just to reach the intended recipients.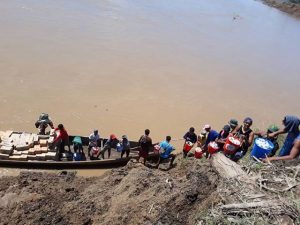 Upon reaching the other side, the team had to climb a muddy steep with the assistance from residents of the barangay.
The team tapped the assistance of residents to help them transfer the family food packs from the boat to the top of the steep that leads to the barangay.
The team also had to load the family food packs to carabao-drawn carts before reaching the destination.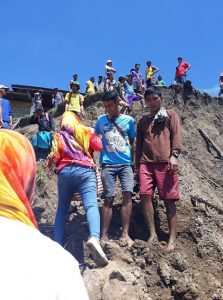 Ms. Lanie Claire Aquino, the Municipal Link for the Pantawid Pamilyang Pilipino Program in the municipality, said that while the trek was tough and risky, the team was determined to reach a place where food and other basic necessities have become scarce in the days following the typhoon's exit from the land.
"Medyo mahirap yung daan lalo na yung bangka na sasakyan para mahatid yung mga relief goods kasi medyo mataas pa yung tubig pero kailangan dahil nangangailangan mga tao na nabigyan ng food packs," Ms. Aquino said.
She also said that seeing how glad the people were with the assistance that they received was worth all the hardship that they endured.
"Sulit ang pagod kapag nakikita mong may mga taong masaya sa tulong na iyong ibinibigay," Ms. Aquino added.
There was a total of 233 families composed of 922 individuals affected by the typhoon in the municipality.
The field office prepositioned a total of 300 family food packs before the storm and an additional 500 after the typhoon as augmentation for the municipality. ### By: Chester Carlo M. Trinidad, Social Marketing Unit