For poverty-stricken families, survival is a constant battle. Securing the most basic of necessities was a struggle. Most times the choice is survival, thus they sacrifice their ambition and insistent desire for an academic feat. This is not so for the Francisco family. For them, to succumb to poverty is not an option, nor is it an obstacle too daunting in achieving success. Their view and conviction that sacrifices have to be made and forbearance is the key to maintaining order and unity, truly makes the Fransisco family a force to reckon with.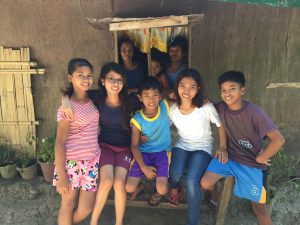 Ligaya and her husband, Relie Rey Francisco, hail from barangay Batu, Allacapan Cagayan. Ligaya serves the community as the "First Kagawad" while selling kakanin on the side. While Relie works as a Farm Labor contractor, a carpenter and basically an all-around go-to guy for anyone who needs menial tasks done. The couple lived in a simple one-room home made with light materials. Their simple home stands on a land owned by Ligaya's mother. To help them sustain their daily needs the family maintains a backyard garden and livestock of a few heads of pigs and chickens.
Between them are 6 children. Rhea Mae, the eldest, is a fresh graduate of a Bachelor's Degree in Chemical Engineering. Rhea Mae's expenses for schooling was shouldered mostly by a scholarship grant from the Department of Science and Technology (DOST) at the Cagayan State University – Carig Campus. She is followed by Lyra, a Valedictorian, an incoming 4th Year college student of Bachelor of Secondary Education Major in Mathematics. Then Leriza, who after sacrificing and waiting for her sister Rhea to finish her degree has taken up and passed the aptitude test for Alternative Learning System (ALS) in secondary education. She (Leriza) is now set to enroll in a Technical Education and Skills Development Authority (TESDA) sponsored skills development program while also setting her eyes on a degree in Agriculture after her sister Lyra graduates. Ayagil, after having finished as Valedictorian is currently a Grade 7 student while Jerry, sixth grade, is a formidable contender in school competitions on poster making. Vivian, the youngest, is an independent 4th grader and consistent top student like her big brother Jerry.
CHALLENGING BEGINNINGS
Ligaya was born and raised in Allacapan, Cagayan. A very bright student as attested by a former classmate but was forced to relocate in Manila in order to pursue her education. At 16 years old, she moved to her elder sister's home to be a nanny while taking up secondary education however, irreconcilable differences as well as maltreatment soon made her pack up and apply to be a househelp in Cubao with the help of a friend. Here, she met Relie, who at the time was new to Manila working for her employer's construction business. Relie is a native of Masbate, not having pursued secondary education due to poverty, had been doing odd jobs to fend for himself until he was employed and later shipped to Manila for his skill and hardwork that impressed his employer.
Working under the same supervisor, Ligaya and Relie always found themselves the object of other co-worker's teasing. At first, Relie was hesitant to pursue Ligaya upon learning that she came from further north of Manila but when he was designated to Roxas Capiz for work, the two started exchanging letters and love blossomed from there. As if to support them, fate gave them two thousand pesos (PhP2,00.00) which was enough for the couple to move back to Relie's hometown in Masbate City and finally getting  married on January 1999.
Living in Masbate turned out to be more difficult for the couple. They settled in the house of Relie's parents, despite that, everything else had to be paid for. They didn't own a land to till and safe drinking water had to be purchased from water refilling stations, considering that there were more members of the household besides them and Relie could not find a job that paid more considering his lack of higher education and limited skill. Every day was a constant struggle to just to survive. Because of this, Ligaya urged her husband to move back to Allacapan. She told him that back in her home, they could till lands and grow their own food. Relie relented and before Rhea was born, the couple managed to collect enough money for a one-way ticket to Allacapan.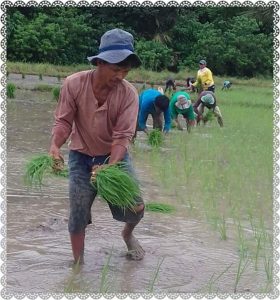 Relie was more anxious of the transfer than he let on. He is a skilled laborer in carpentry and painting, something he knew that is not in highly demanded in a town that is primarily agricultural but he was determined to prove himself to his in-laws. The first year, he would accompany Ligaya as soon as farm laborers are called for. The first time he attempted to harvest, he cut the palay stalks the wrong way and had been doing so until half the day's labor had been done and most of their companions had a good laugh at his blunder. Unperturbed, he pushed on, ignoring the cuts, bruises and the pain at being bent the whole time. His first time to try planting haven't been good either. He was mocked by fellow men because he worked really slow and was always among the women, considering Ligaya kept a closer look at him in order to correct any mistake he made in planting.
"Naalala ko pa yung biyenan kong babae, sabi niya, bakit daw ako nakipag-asawa na hindi naman marunong sa gawaing bukid. Pero hindi ko pinansin yon, ang importante sa akin, magagawa kong buhayin ang pamilya ko." (I remember how my mother-in-law would scold me and tell me that I shouldn't have gotten married without first learning how to till the land but I did not mind her words a bit. What was important to me then was that I will be able to provide for my family) Relie quips pertaining to how things became more difficult when Rhea was born.
"We had a tiny baby but I could not stop working or else we wouldn't have any food to eat," recounts Ligaya. "Rhea was such a cooperative baby that we would bring her to the farm with us. Relie would set up bamboo poles where we can tie a makeshift cradle and umbrella where she would sleep the day away, only waking up to feed. When Rhea started crawling, Relie made a small crib-like cage. There he'd place our equipment to carry to the farm and while were both working, that's where we kept Rhea."
By the time Lyra was born, Relie had become so efficient that Ligaya could stay home to take care of the two. In fact, Relie had become so efficient that people started to trust him to organize labor group during planting and harvest seasons. Ligaya, meanwhile, did not relegate herself to just be a stay-home mother and was soon helping out at the Health Center as a Barangay Health Worker shortly after Leriza was born.
Keeping The Children Educated
A new challenge beset the family as soon as the children started going to school. Rhea, at a very young age already showed a strong desire to learn, she refused to get absent even when she had fever. Since the Barangay Health Center was just next to the school, Ligaya was more than happy to serve while having the time to look after the children.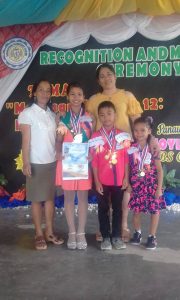 It was no surprise that soon after, Rhea started to exhibit academic excellence obtaining meritorious awards every school year and even finishing primary and secondary education as class Salutatorian. Worry set in after Rhea's high school graduation. There was no doubt in her mind that she wanted to earn a degree in college but the family could not afford it. Still, that did not deter Ligaya in finding ways to give her daughter an opportunity to achieve what she dreamt-of. She started by going to the local government offices of the municipality and then the province. She patiently waited in line, foregoing hunger and thirst, just to have the chance at appearing before the local executives but to no avail, she was either too late or lacked in requirements. The visit to CHED and DepEd was also fruitless.
It came by chance that while Ligaya was doing chores at home, an announcement over the radio invited bright young students with an aptitude at science and technology a chance to avail of a scholarship from DOST. Ligaya was quick to bring Rhea to the agency and had her try out. It was not in vain this time, because Rhea was accepted for the scholarship with the degree in Chemical Engineering.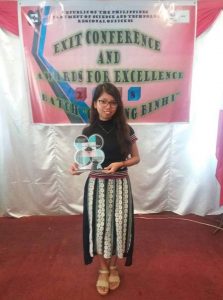 Not to be upstaged is their daughter, Lyra, who, with the constant guidance of her mother and elder sister resulted in her finishing as class Valedictorian. Finishing as valedictorian gave her an edge and made financial assistance available for her when she started her degree on Secondary Education major in Mathematics.
Leriza too followed in the footsteps of older siblings as she finished primary education as the first honorable mention.
Income from being a farm laborer and barangay worker could not cope with the children's ballooning needs. With three more added to the brood, Ayagil, Jerry and Vivian, it became clear to the couple to step up with the improvement of their skills while making difficult choices in the process.
For Ligaya, having only finished second year in secondary school, she pushed herself to acquire secondary education by enrolling in ALS and passing the assessment exam soon after. With this, she was elevated from a BHW to the Barangay Nutrition Scholar. However, sacrifices also had to be made. Leriza had to stop secondary school to give way to her older sisters going to college and keep younger siblings in elementary school.
"Naging mahirap talaga sa aming mag-asawa kasi lubos yung panga-ngaral naming sa mga bata na pagbutihin at pahalagahan ang pag-aaral.  Pero walang-wala talaga kami noon kaya kinausap namin ng maayos si Leriza at ipinangakong kapag nakapagtapos na yung panganay ay siya naman ang babalik sa pag-aaral" (The decision was difficult for us because my husband and I instilled upon the children to do good with their studies. But at the same time, we really could not afford to send everybody to school. We had a heart-toheart talk with Leriza and told her that she can go back to school as soon as sister Rhea finished her degree) recalled Nanay Ligaya.
Leriza talks about how it felt the first time her parents talked to her about it: "Nalungkot man ako nung una kasi gusto ko talagang magaral, pero naiintindihan ko naman na minsan kailangang magsakripisyo para sa pamilya, na kailangang may mauna. Naniniwala ako na para din sa amin yun at balang araw ay makakabalik pa ako sa pag-aaral" (I was sad at first because I really wanted to go to school but eventually, I understood that some of us had to sacrifice to let others go first and wait for my turn. I believe that everything was for the good of the family and that someday I could go back to school).
Her time out-of-school didn't remain idle, she used it to work as a pasta maker in one of the small pasta factories at the town center. Confident that she too would get her chance at a degree in Agriculture, she didn't hesitate to start planning and saving for it early on.
Ayagil did not waste her sister's sacrifice. She bested other students both academically and in extra-curricular activities. She is the school representative in the Division and Regional School's Press Conference and has even retained the position of editor-in-chief before graduating as class Valedictorian.
Jerry is a consistent honor roll student and has also joined competitions on Poster Making for the school. Vivian, young as she is, understands the value of being educated and had made her older siblings her role model, herself also a consistent honor student.
"I know Ligaya as the very bright and very industrious classmate back when we were kids," relates Engelyne Batugal, the school principal of Binobongan Elementary School. "It's just so sad that she didn't have the opportunity to finish a degree, but then again, look at her now, a first Kagawad, with a very supportive husband and mother to 6 outstanding children this school has ever witnessed. She is proof that education is never too late for anyone who has all the fortitude to continue not only for herself, but also for her children."
BECOMING PART OF THE PANTAWID PAMILYA PROGRAM   
It was in 2012 when the Francisco Family was made part of the Pantawid Pamilyang Pilipino Program. By then the two elder siblings were already in college while the program monitored the three younger Fransisco. Ligaya attests to the contribution of the program in buffering for the children's needs.
She cries foul on criticisms that the program has only encouraged laziness and dependence of the program beneficiaries to the cash grants. She shares, "Higit na mas mahalagang kontribusyon ng programa sa aming pamilya ang patuloy na paghahanda at pag-gabay sa amin upang tuluyang mapabuti ang antas ng aming pamumuhay. Sa pamilyang patuloy na nangangarap, hindi sapat ang cash grants, kinakailangan ang patuloy na pagtatrabaho at pagsususmikap upang pagdating ng panahon, makakaya na ang tumayo sa sariling mga paa." (The most important contribution of the program to our family is in equipping and continuous guidance in order to uplift our living conditions. For families with ambitions, cash grants are not enough, there is a need to work harder so that when the time comes, the family will learn to be self-reliant).
Prior to the program, the family lived with Ligaya's parents but as the brood started to grow, the couple decided it was time to start their own home. Borrowing a parcel of land from her parents, they established their first home made of light materials. Due also to the close proximity of the school from their house, it was an advantage for the children.
Health problems also plagued the Fransisco children. Due to a very limited diet and lack of money for check-ups and medicines, the children would fall ill on some days and miss their classes. Only through compassion from teachers that the children would undergo special tutorials and sometimes even staying over at the teachers' just so that the children would be able to catch up on missed lessons.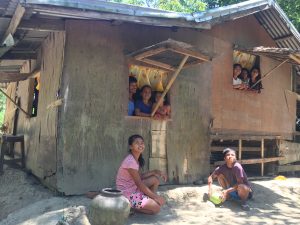 For Ligaya, the program has helped them get through their dire condition. The cash grants provided for the younger children's education, sometimes even to the older siblings. Earnings that Relie was able to save became enough to have their roof rebuilt from nipa to galvanized iron. With the advent of Self-Employment Assistant – Kaunlaran, the family was able to start up a small piggery and chicken livestock the earnings of which would primarily go to Rhea's living expenses in Tuguegarao.
The family development sessions (FDS) helped the couple in maintaining their good marital and family relationship. Aside from lessons on family life, the couple appreciated the tips and advice on income and economic development, disaster management, gender development and in establishing a Bio-Intensive Garden (BIG).
The program was also a gateway for Ligaya to gain the confidence to become a Parent Leader (PL). She confessed that at first, she was hesitant because of her lack of formal schooling but with her regular attendance to FDS, she became more confident in her knowledge and skills in assisting fellow beneficiaries. The establishment of the BIG project provided the parent group with the opportunity to grow vegetables and address hunger as well as malnutrition.
Through the support of the program, the local community and partners from the Department of Agriculture (DA), the parent group was encouraged not only to establish a communal garden but also to start a garden at their own backyards.
A GENDER SENSITIVE FAMILY
A glance at the Fransisco children and a group of bright young faces of 4 girls and 2 boys would be seen but upon closer examination, it becomes apparent that Leriza is in fact female and not male despite her boyish appearance.
"I was in fourth grade when I noticed something in me changed," she begins. "Not only did I start preferring shorts, pants, jerseys or shirts instead of dresses and blouses, but I would also prefer to play with other boys instead of the girls. It didn't surprise me when one day, I became attracted to a female classmate."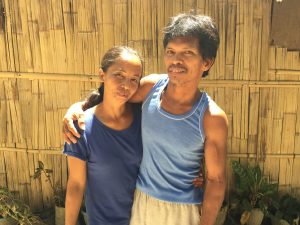 Leriza wears her hair short and speaks with a deeper set voice compared to her other sisters. She admits feeling confused with her internal battle at first but was never afraid to show her true feelings to her family. By the time she was 13 and stopped schooling, she had more time to truly understand herself and become comfortable with it.
"I noticed the change even before," Ligaya recounts with a smile. "Each time I ask the children to pick their clothes, Leriza would always say she would rather prefer clothes like the ones her father wore and her movements were coarse compared to her sisters. In fact, she didn't even come out to us with it formally, we sort of just realized and that realization came with understanding. I also notice Jerry acting more feminine sometimes but don't feel at all alarmed by it. They are good children that is all that would make any mother proud and happy."
When asked what Relie thinks about Leriza's gender preference he answers, "Hindi naman problema iyon para sa akin. Bilang magulang, tayo lamang ang naatasan upang gabayan ang mga anak natin. Kailangang tanggapin natin na may sari-sariling buhay ang mga anak natin at respetuhin ang kanilang mga desisyon. Kung iyon man ang desisyon ni Leriza o kahit sino pa sa kanila, hindi magbabago na ipinagmamalaki ko sila" (I don't see it as a problem. As a parent, we are only here to guide our children. We should learn to accept that our children should lead their own lives and respect their decisions. If that is what Leriza or any one of them decides, it does not change the fact that I am proud of them)
Ligaya believes that her, having started out as a homemaker then to a barangay health worker until finally being elected as the first kagawad would inspire other women and mothers to realize that they can do more. For her, empowerment is not only knowing one's rights and responsibilities but also the determination to take charge of one's destiny.
Relie supports his wife in every way he can. He is not threatened that his wife has taken a path of public service despite the teasing from other men. He says his children being achievers was more than proof that his wife can handle both the pressures of community service and child rearing.
The couple admits to getting into arguments over household issues and money matters. Relie even admits to drinking alcohol on certain occasions to the annoyance of Ligaya. "I would just let her rant and when she finally stops, I explain and then were okay after that," he says.
"Minsan nakikita naming sila magsagutan" (Sometimes we see them argue) admits Vivian. "Hindi naman sumisigaw si papa, nakikinig lang siya. Tapos kapag tapos na si mama magsalita, bati na ulit sila." (Papa doesn't shout back, he listens and then when mama is done talking, they'd be okay again.) Asked with whom the girls usually side with on these occasions, they are quick to pick their mother and start giggling.
BEING ONE WITH THE COMMUNITY
The Fransisco family primarily advocates for education. The couple believes that education does not necessarily equate to success, however, they believe that education opens more opportunities and chances for one to succeed.
Setting herself as a good example, Nanay Ligaya who was only able to finish 2nd Year High School because of the need to work at a very young age, did not hesitate to enroll under the Department of Education's Alternative Learning System (ALS) – even at the age of 34 years. As she shared: "Noong 2014, nung naghanap ang mga taga ALS ng gustong mag-enroll, kinuha ko agad yung opportunity hindi lamang para matuto kundi maging ehemplo sa mga anak ko at iba pang kabataan sa aming barangay. Iba pa din talaga kapag nakapagtapos ng pag-aaral"(Way back in 2014, people from ALS [DepEd] were looking for people who wanted to enroll [in the program]. I took this opportunity not only to learn but to also be a model to my children as well as the youth in the community. It is still better to pursue higher education). With her determination, in the same year, she then passed the ALS Accreditation and Equivalency (ALS A&E) Examination for secondary level.
As early as 2002, Ligaya has been serving the community as a Barangay Health Worker; until she was designated as a Barangay Nutrition Scholar (BNS) from 2009-2013. Feeling the call of social service, she then decided to run as Barangay Councilor during the 2013 Barangay Election – a move positively responded by the community and earning her a seat in local legislation and eventually as the Chairperson for the BLGU's Committee on Nutrition. Committed to providing service to the community, she has strengthened the Barangay's Mother Class – a program dedicated to provide parenting guides to mothers, particularly underage or teenage mothers and those with no prior parenting experience. She believes that knowledge is power and women should not shy away when it came to self-determination. She advocates that child-rearing is not the sole responsibility of the mother but both parents in order to ensure a balanced outlook on gender roles.
Further, Nanay Ligaya has strongly advocated for the improvement and construction of their farm to market roads. Her enthusiasm was the fuel to carry out a crucial role in the LGU-MSWDO's delivery of social services catering Indigenous Peoples, Persons with Disabilities, Senior Citizens and other relative programs such as Supplemental Feeding Program and Disaster-Related Operations, as certified by the Local Government Unit. The chairman of the barangay proudly declares: "You will hardly encounter an IP who was not able to register the birth of her child because Kagawad Ligaya will make sure that births are properly documented. For Ligaya, the feeling of being of help to others is fulfilling and uncomparable. "Iba yung pakiramdam kapag nakakatulong ka sa mga taong nangangailangan. Hindi iyon kayang pantayan ng kahit anong salapi" (Nothing compares to the altruistic feeling of helping another, not even money).
True enough, her noticeable acts earned her a second term as a Kagawad for the Barangay Council during the 2018 Barangay election – posting 1st among all candidates and earning more votes than the elected Barangay Captain.
Meanwhile, Relie has been Nanay Ligaya's number one supporter and a proud assistant, "Yung mga kailangang gawin sa barangay na hindi ko magawang mag-isa, tulad ng pag-aayos, nandun siya lagi para tulungan ako" (There are responsibilities in the barangay that I cannot do alone, like in keeping things in order, he's always there to help me out.) says Ligaya.  As a husband, he reminds her to always look after herself in times he would not be able to support her. "Minsan kasi talagang dahil sa trabaho e nakakalimutan niya or pinapalampas niya yung pagkain or pagpapahinga kaya naman ako laging umaalalay". (Sometimes, due to her work, she forgets to have a meal or rest that's why I am always around to assist her)
Relie exhibits compassion and fairness in his dealings with labor-only contracting. He is not deterred by being a "dayo" or foreigner in finally earning the trust and confidence of fellow laborers. On his free time, Relie dedicates it to helping neighbors in keeping the spirit of bayanihan alive. His acquired skill in painting is shared through the beautification projects of the primary school where the children attend. He has likewise kept himself involved in acts of community service as an active officer of the Parents-Teacher Association of the Binubonga Elementary School where both he and Nanay Ligaya was recognized for their valuable contributions in the beautification and repairs of the school.
"Our school buildings look more alive because he offers his services without compensation." Recounts Engelyne Batugal, "I remember one time, we only realized someone was working to beautify the walls of our school when we stepped out after class only to find him working silently and diligently." For Relie, it is his way of giving back to the institution that has nurtured the mind and talents of not only his children but all the children that has set foot in its classrooms.
For the children, their plight and seeing their parents strive to support their educational endeavors inspires them to go beyond what is expected of them. As shared by the eldest: "Kahit minsan walang wala kami – walang perang papasok sa school at kulang ang kailangan for school requirements, hindi kami nawawalan ng pag-asa. Yung alam lang naming na nandun sila (magulang), mas pinagbubutihan namin". (Sometimes, our situation becomes so dire and we don't have enough money for our school requirements but we don't lose hope. We know that our parents would always support us that's why we continue to do our best.)
The Francisco children has been very active in various organization and extra-curricular related activities – from being a Supreme Student Government officer, club leader,  school paper Editor-in-Chief to even being an active member of the local Boy/Girl Scout of the Philippines unit. They have inspired students of different ages that even with low resources, anyone can lead and influence change, determination and the will to serve is the utmost requisite.
BECOMING HUWARANG PANTAWID PAMILYA 2018
The Francisco Family's journey, is a story of inspiration hope and success – illustrating how a family of perseverance and determination could pursue their dreams despite the disadvantage of poverty.
The family has demonstrated positive family relations, discipline, unity, and sacrifice as a drive to triumph over the challenges hurled at them. With the desire to advocate for the Pantawid program and become a living proof that program beneficiaries do not entirely depend on the government subsidy but in fact use it as a window of opportunity to better themselves, the Fransiscos hope that the public will strip off their prejudice against the program.
"Gusto naming maintindihan ng nakararami na ang mga Pantawid ay hindi mga tamad, ang mga Pantawid ay hindi walang mga pangarap, lalung-lalo na, ang Pantawid ay umaasa lamang sa bigay ng gobyerno. Tulad ng nakakarami, kami ay may mga pangarap din at ginagawa naming an gaming makakaya sa abot ng aming kakayahan upang ito ay aming maabot." (We want the public to understand that Pantawid beneficiaries are not lazy, they do not lack ambition and most specially that they are dependent on the government to survive. Like everyone else, we have aspirations and we are doing what we can, in our own way, to achieve it) says Ligaya.
"Basta't buo ang pamilya at puno ng determinasyon, walang imposible" – The Francisco Family is a story of hope and success worthy of emulation.