May 08, 2019 – With the aim of delivering efficient service to clients, the Department of Social Welfare and Development Field Office 02 (DSWD FO2) recently finished installation of the Citizen's Charter Panels strategically located in front of the main building that clients pass by whenever they visit the field office.
The said panels are in accordance with Republic Act No. 11032 otherwise known as the Ease of Doing Business and Efficient Government Service Delivery Act of 2018, amending Republic Act No. 9485 or the Anti-Red Tape Act of 2007, imploring agencies and government offices including local government units (LGUs), government-owned or controlled corporations and other government instrumentalities, whether located in the Philippines or abroad, to make transactions easier and faster, including the standardized deadline for government transactions.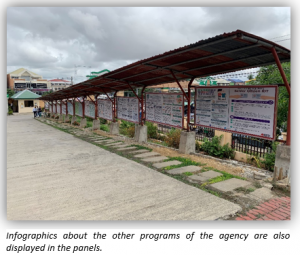 The panels include the vision, mission and goals of the agency as well as the simplified process for frontline services such as the Assistance to Individuals in Crisis Situation (AICS) and Travel Clearance for Minors Traveling Abroad (MTA) as well as information on other agency programs such as the Social Pension Program for Indigent Senior Citizens, the Supplementary Feeding Program (SFP) and the Adoption and Foster Care.
The panels where constructed last year with minor revisions done last April in time for the launching this May.
The field office hopes that the launching of the panels will contribute to its goal of providing Maagap at Mapagkalingang Serbisyo to the clients that it serves. ###