Tuguegarao City – As part of the preparation for the Listahanan 3rd Round of Household Assessment that will begin later this year, Director George JT D. Aliño of the National Household Targeting Office (NHTO) led a consultation visit and inspection to the Department of Social Welfare and Development Field Office 02 (DSWD-FO2) last May 24, 2019.
The consultation visit aims to personally motivate field staff working for the National Household Targeting Section (NHTS) for the conduct of the assessment and to personally listen to the issues and concerns of the field office.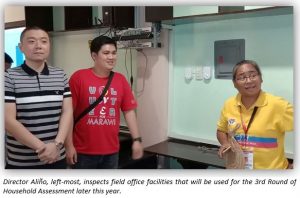 In his discussion, Dir. Aliño narrated the process of finalizing what he dubbed as the heart of the Listahanan Project, the Proxy Means Test (PMT), the statistical tool used to identify who and where the poor are based on the data gathered from the household assessment.
Another highlight from Director Aliño's discussion is the Enhancement of the Listahanan Manuals which is being updated based on the results of the Pilot Test/s and the recommendations from a consultant.
Moreover, a detailed Grievance Redress System shall be incorporated in the Operations Manual which includes the improved Local Verification Committee (LVC) process and a memorandum of agreement (MOA) with DILG to strengthen partnership with barangays.
Director Aliño also presented the timeline of the whole project cycle informing that it was extended from the original 11-month period to 15 months to ensure the quality of data in the final list of poor households.
On the second day of the visit, Dir Aliño went to inspect the encoding station of the NHTS and other possible areas that can accommodate the said process.
Furthermore, the Director believes that Listahanan is the heart of the agency because it is where the list of beneficiaries come from, thus, it should be kept complete, truthful, and accurate. ### By: Margaret G. Arao, Listahanan Information Officer