June 04, 2019 – The Department of Social Welfare and Development Field Office 02 (DSWD FO2) in partnership with the Social Technology Bureau (STB) of the DSWD Central Office recently conducted an orientation on completed Social Technologies to partner Provincial/Municipal Social Welfare and Development Officers (P/MSWDOs) of the provinces of Cagayan, Isabela, Nueva Vizcaya and Quirino.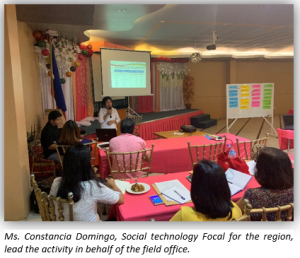 The activity was conducted in two batches, with delegates coming from Cagayan and Nueva Vizcaya scheduled on May 29 to 30, 2019 and May 30 to 31, 2019 for Isabela and Quirino participants.
Among the completed social technologies discussed were the Comprehensive Intervention Against Gender-Based Violence (CIAGV), the Gender Responsive Case Management (GRCM) and the Aruga at Kalinga sa mga Bata sa Barangay which were discussed by Ms. Patricia Ana Y. Quines of the STB.
Mr. Bony Mar M. Lumabao, also from the STB, discussed other completed social technologies such as the Counseling Service for the Rehabilitation of Perpetrators of Domestic Violence (CSRPDV) and the Home Care Support Services for Senior Citizens (HCSSSC).
The activity aims to address issues on Gender-Based Violence (GBV) in the region through the replication of the completed social technologies.
The DSWD, through the leadership of Secretary Rolando Joselito Bautista is aiming for the region to have at least five partner LGUs to replicate any of the five completed social technologies presented for the year, with a focus on making social services more efficient to the needs of the poor and marginalized sectors that they cater to.
Among the social technologies presented, the HCSSSC was already adopted by the province of Batanes earlier this year. Also, of note, the Pantawid Pamilyang Pilipino Program, which was signed into a law by President Rodrigo Duterte earlier this year, started as a social technology before it became the flagship program of the agency in 2011 due to its usefulness in alleviating the economic situation of its beneficiaries while encouraging the latter to meet the former's education and health conditionalities to avail of the program. ###