A tailor's masterwork starts with pieces of fabric which harmoniously interacts with needles and threads. It is a form of art that narrates how an ordinary piece of cloth transforms to various patterns and designs with each detail speaking intricacy, ingenuity and passion. More than these, it unfolds the way of life behind these creations.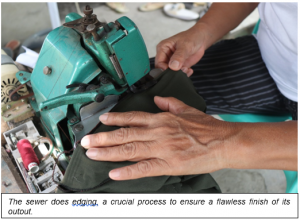 Every rhythm of the sewing machine resonates the untiring steps behind the pedals. Rolls of thread, countless needles and yards of fabric are the first and the last to be touched by these meticulous hands. These hands and feet pay no attention to the twinge and numbing effect of the sewing process.
The mothers are locals from the municipality of San Pablo, Isabela. A third-class municipality situated in the boundary of the Provinces of Isabela and Cagayan. The community relies on agriculture as its primary economic activity producing rice and corn as its main commodities. Most of the mothers were plain housewives and accepted laundry service for a living. Some were long-time farm laborers of privately-owned lands earning P150.00 a day. Others rely on the income of their husbands on whatever side line jobs available in the area. The long period of waiting for harvest season were perhaps the longest days before they can serve a decent meal on their tables.
In 2016, the Sustainable Livelihood Program (SLP) opened opportunities for the generation of alternative income. Through a partnership with the Isabela School of Arts and Trades (ISAT)-TESDA, skills training on various qualifications were made available for SLP participants. The nine mothers namely, Daisy Maltu, Damiana Asino, Brigida Dabo, Merlina Melchora, Rosemarie Fernandez, Gina Jose, Teresa Baquiran, Venus Palete and Jhovielyn Allauigan took the opportunity to gain life skills and underwent a 48-day Training on Dressmaking NC II. After the training, each received a unit of portable sewing machine and decided to establish a group enterprise under San Pablo Dressmakers SLP Association (SLPA). To further support the endeavour, SLP provided capital augmentation through Seed Capital Fund amounting to P120, 000.00.
The members were able to purchase heavy duty sewing machine, measuring tools, complete set of fabrics and other necessary materials for the project. Their sewing/ tailoring services accommodate the demands of their clients within San Pablo, nearby municipalities of Tumauini, Cabagan, Delfin Albano and adjacent municipalities of Cagayan. They gained expertise on producing quality ready-to-wear clothing, uniforms, gowns and costumes.
With their dedication to their craft, they gained regular clients particularly students and teachers from Cagayan State University, University of St. Louis Tuguegarao, Isabela State University, St. Paul Vocational Industrial High School, Simanu National High School and Delfin Albano National High School. Their market linkage expanded since the group was able to tap eight regular festival/events coordinators. They design and create costumes to be used for street dancing, drum and lyre and other festival competitions. The group earns an approximate weekly income of P5, 000.00 per contract apart from their individual average earning amounting to P300/day. On days were the demand is high, they earn as much as P25, 000.00 per contract.
Through their income the members were able to steadily provide the needs of their children; some acquired assets such as motorcycle, appliances and home improvement; while others ventured on individual projects such as animal domestication.
In the coming days, they plan to improve their production area as part of their expansion. As a way of giving back, they share their skills and transfer their learning to some mothers and younger generations in the community. The enterprise not only provided the group with a regular source of income but also shed hope for others.
Today, it is apparent that the project brought changes on their outlook in life. The mothers learned the value of maximizing their time and effort to improve their craft. They take pride on every piece of creation they sew out of passion. Their hearts are full when they see the delight on the eyes of their clients. More than the monetary gains, the compliments and appreciations became their driving force to do better. Their entire SLP journey made them realize that their pieces of dreams can be stitched in one tangible piece, as long as one is determined to embrace change. ### Written by: Melisen A. Taquiqui, SLP Social Marketing Officer