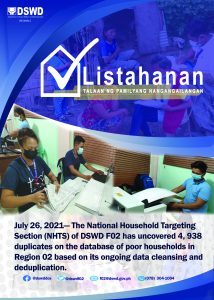 The National Household Targeting Section (NHTS) of DSWD F02 has uncovered 4, 938 duplicates on the database of poor households in Region 02 based on its ongoing data cleansing and deduplication.
Mr. Christopher M. Soriano, Listahanan Regional Field Coordinator, said that the duplicates occurred due to misdeclaration of some respondents on their actual family roster during the house-to-house interview and others were interviewed twice during the data collection phase of the project.
He also added, "There are households that were assessed during the data collection phase that have slight changes and updates on their family composition during our validation which resulted to duplication of household members."
Mr. Soriano explained that it is important to clean the database to ensure that all information and data are correct and updated in line with the commitment of Listahanan project to launch a complete, accurate, and reliable list of poor households this year.
It can be recalled that the DSWD F02-NHTS assessed a total of 672, 884 households in 2019 covering the 5 provinces of region 02. Out of this number, 137, 444 household were initially classified as poor based on the result of the Proxy Means Test (PMT).
After the data cleansing and deduplication process, the data will once again undergo Proxy Means Test (PMT) to generate the final list of poor households for data sharing with various social protection program implementers.
The PMT is a statistical tool used by Listahanan to determine the economic status of every assessed household.pp
Executive Order No. 867 series 2010 provides for the adoption of the National Household Targeting System for Poverty Reduction (NHTS-PR) as the mechanism for identifying poor households who shall be recipients of social protection programs and services.
WRITTEN BY: JESLYMAR N. LAYUGAN