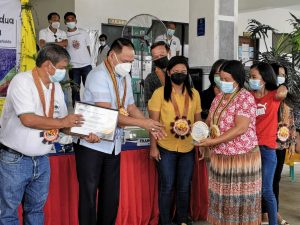 Enrile, Cagayan – Ten families from Enrile, Cagayan were recognized during the Pamaddayaw na Paggradua na Pantawid Pamilya for waived out or graduated Pantawid Pamilyang Pilipino Program (4Ps) beneficiaries held by the Department of Social Welfare and Development Field Office 02 (DSWD FO2) and Local Government Unit (LGU) of Enrile on October 25, 2021.
"Malaki ang pasasalamat ko sa 4Ps dahil kung hindi kami natulungan noon, marahil ay hindi ko napag-aral at napagtapos ang apat sa aking sampung anak," (I am thankful to 4Ps because if we were not given assistance back then, I would not be able to see four of my ten children graduate from college) expressed Julie Atal, one of the family-graduates from barangay Magalalag East during her testimony.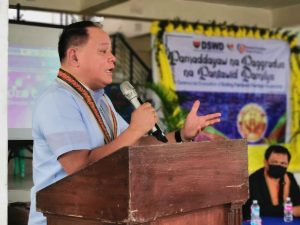 She recounted how she and her husband struggled to support their ten children with her meagre income from offering manicure and pedicure services while her husband engaged in farming and construction. The cash grants she received from the program helped to ensure the children stayed in school while other government agencies provided scholarships for their college education. "Masasabi kong nai-angat na namin ang aming buhay kaya handa na kaming lumabas sa programa," (I can say that our well-being has improved that is why we are ready to exit the program.) she added.
According to Regional Director Cezario Joel C. Espejo, the graduation event is considered as impact or the return of investment of the 4Ps program to ensure that families do not remain in the poverty threshold. "The graduate-families have improved level of well-being meaning they have become self-sufficient so if anyone asks where the government funds have gone, this event should be able to prove the impact of the program," Espejo affirmed.
In his message, Mayor Miguel Decena Jr. said, "The 4Ps is a very noble endeavour of the national government to help poor families break the cycle of poverty. We hope that these graduate families become models for other 4Ps to persevere to improve their level of well-being so that someday we will no longer have any 4Ps families in the municipality."
Decena proclaimed that the LGU is offering skills and development trainings for 4Ps as well as the rest of Enrileños to make the town a center for skilled laborers not only in their area but also for nearby towns. This, he says, is in line with the provisions in the Specific Implementation Agreement signed between the LGU and DSWD.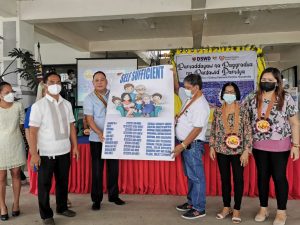 The event was concluded with the turnover of case folders of the graduate families symbolizing the role of the LGU in the after-care services of families such as access to services on education, health and other socio-economic interventions.
###story by Jeanet Antolin-Lozano