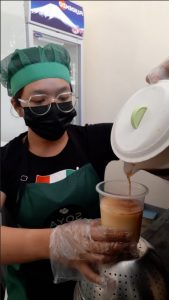 She has seen the strength of a woman the day her mother left the family to be an Oversees Filipino Worker (OFW). From then, she understood that not all absences are meant to weaken one's soul. At an early age, she sought comfort knowing that the void from this absence will mould her perception on what courage is. Being the eldest between the two siblings, she grew up having a sense of responsibility to look out and stand for the family – an innate character of the little fighter in her.
She is Shemeah Minette D. Rivera, 20 year old, a daughter from Brgy. Gundaway, Cabarroguis, Quirino and a recipient of the livelihood assistance grant under the Seed Capital Fund (SCF) of the Department of Social Welfare and Development Field Office II (DSWD FOII) through its Sustainable Livelihood Program (SLP).
Shemeah relatively had a comfortable life since her both parents had a job. Her mother is a long time OFW while her father initially worked in the furniture shop of her grandmother. In 2015, her father got the chance to run the business on his own. Life runs pretty smoothly for the Rivera family until pandemic came.
In September 2020, her father suffered from stroke due to Rheumatic Heart Disease and days after, her mother got repatriated due to retrenchment from work. The untimely circumstance, the pressing financial constraints, and the effects of the pandemic caused immense emotional distress to the family. Everything seems so hopeless on that day. Seeing the pain in the eyes of her parents gave her qualms for their future. She gathered her strength and thoughts to change their situation.
She sought help through the Office of the President for possible livelihood intervention. Her request was granted and she was endorsed as one of the presidential referrals to SLP. Upon validation and assessment she was granted with P15,000 SCF to finance her chosen venture.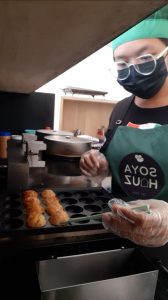 Shemea started a soya-processing business with wits and guts. She acquired basic equipment by borrowing money from a private financial institution and used the grant from the Department to purchase raw materials. On a daily basis, they produce an average of sixty (60) pieces of chilled taho, one hundred fifty (150) bottles of flavored soya milk, and sixty (60) tubs of tofu. They sell their products to public markets in Cabarroguis, Saguday, Diffun, Aglipay, Quirino and Ramon and Jones, Isabela; Quirino Province Medical Center, Quirino Electric Cooperative and the Department of Education. They also have resellers within Quirino and at some parts of Isabela province.
There were low moments in her venture. There were days that does not go according to plan. Apprehensions succumb her spirit but the little fighter in her continued to push through. Their hard work paid off as they earn around P50,000 to P70,000 a month. Out of this, they were able to buy a high-end processing machine, acquire a car through installment basis for their delivery service, and support the maintenance and therapy of her father. She also managed to gradually settle their debts. More than the economic gains, their venture paved way for Shemea to finally have a complete family as her mother no longer needs to be miles away just to bring food on their table.
On her mama's birthday in October 2021, they opened a physical store in Barangay San Marcos, Cabarroiguis, Quirino named 'Soya Hauz'. The store offers a wide array of hot taho, chilled taho, soya milk, taho sorbetes, soya ice crumble, taho halo-halo and the like. In time, she envisions to expand and put up more branches in the municipality.
Life adversities may come and go, but Shemea's strength will always remain steadfast. She will always be Mama's little fighter, a grown-up woman of courage who transcends whatever life may bring.               ### Written by: Melisen Taquiqui/SLP Social Marketing Officer