Traces of hardships are visibly seen on the hands of Ms. Iris U. Viola, a sewer and a mother of two. Through the years, countless needles, rolls of threads and yards of fabric were her constant companion to get by. Although she has minimal skill on sewing she strived to make a living out of it since the family's main source of livelihood is seasonal in nature. She faced difficulty in covering the needs of her family ever since her children entered formal schooling. In times when she couldn't rely on sewing, she recalled that just to bring home a kilo of rice, she even tried to scavenge roots crops, make a snack out of it and sold it. They don't own fishing gears to maximize what the sea can offer. Her husband only practices "maki-daklis", a local term for percentage basis income on fishing.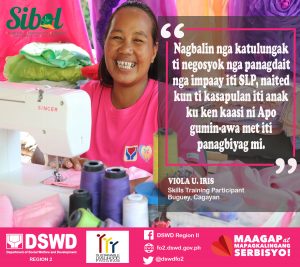 Before the Sustainable Livelihood Program (SLP) was introduced in their community, Ms. Iris's family had no steady income. They relied on tenant farming as their main source of livelihood, earning a percentage basis income of P3,000.00 a month. She also did occasional sewing as a side line job and kept a small sari-sari store to augment their seasonal income. Unfortunately, she couldn't depend on these said ventures since she had minimal skill on sewing and her sari-sari store had limited items.
SLP shed light on the aspiration of a mother to further her skills. In 2016, she grabbed the opportunity for skills upgrading and enrolled at Aparri Polytechnic Institute together with three SLP members from Buguey. The intervention capacitated her on the technical know-how on Dressmaking. It also provided Ms. Iris with physical asset as she received starter kit for the operation of her enterprise.
She earns an average of P400.00 a day on sewing and repair services on a regular basis. On peak days, she earns as much as P700 a day. This venture translates to a monthly additional income of P13, 200.00 for the family. On days were demand is high, she hires seasonal workers and provides them a percentage basis income. She employs at most three mothers from her neighborhood.
At present, through the gains from her sewing business, Ms. Iris was able to diversify the sources of her income. She was able to expand her sari-sari store to include a purified water refill, bottled drinks and a loading station. She also acquired one unit of freezer for her sari-sari store. Moreover, she also ventured on hog raising. Her hardships on her ventures paid off as she sees the fruits of her labor becoming a reality. The family was able to build their dream house. It may not be that big but it is now concrete, more comfortable and sturdy compared to the previous one. Greater than this economic gains, she finds fulfillment in being able to provide alternative income for other mothers like her. In her own little way her enterprise is making a difference to the community.
There is no single formula for success, her attitude towards life and the positive outlook that she emanates became her driving force to effectively grow her enterprise. She is more than thankful for the opportunity that SLP provided. "Nagbalin nga katulungak ti negosyok nga panagdait nga impaay iti SLP, maited kun iti kasapulan iti anak ku ken kaasi ni Apo gumin-awa met panagbiyag mi (Naging katuwang ko ang negosyong pananahi na hatid ng SLP sa pagtugon sa pangangailangan ng aking mga anak at sa awa ng Diyos guminhawa naman ang aming buhay)," she said. ### By: Melisen A. Taquiqui, SLP Social Marketing Officer