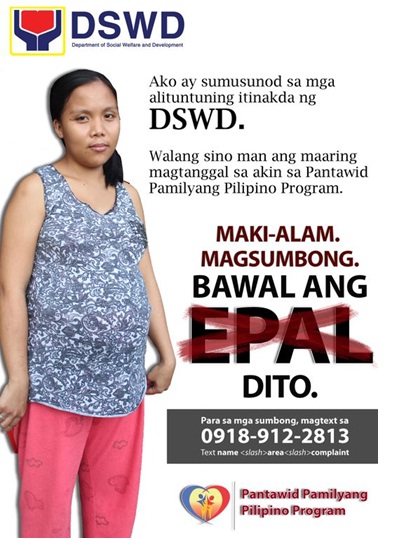 No more threats. No more EPAL.
 These are the main thrusts of Bawal Ang Epal Dito Campaign of Department of Social Welfare and Development (DSWD) to be launched from January to May 2013 to protect the Pantawid Pamilyang Pilipino Program, from undue politicking and interventions that may affect the program's integrity.
 Bawal Ang Epal Dito confronts the issues of external pressures and eliminates the misconception of the beneficiaries about the control of politicians or parties over Pantawid Pamilya. More importantly, it seeks to empower the beneficiaries to know their rights and to be vigilant of individuals and/or groups who plan to use the program to push for their personal agenda.
 With the upcoming 2013 elections, politicians are out to use the program to gain leverage. Through the Department's Grievance Redress System, beneficiaries continuously gave feedback that politicians are allegedly claiming to have the authority to enlist and delist them from the program.
 "Walang karapatan ang kahit sino na mag-alis ng pangalan. Ang may karapatan lang ay ang DSWD Regional Office at National Office," [No one has the right to delist a beneficiary. Only the DSWD Regional and National Office are authorized] DSWD Secretary Corazon Juliano-Soliman said. "DSWD lang ang may karapatang tanggalin ang benepisyaryo sa Pantawid kung hindi siya susunod sa mga itinakdang kondisyon," [Only DSWD has the right to delist a beneficiary if s/he will not comply with the conditionalities] Sec. Soliman emphasized.
 The campaign aims to empower the public, especially the beneficiaries, by increasing their knowledge about the program mechanics and the selection and removal of households. Bawal Ang Epal Dito campaign aims to protect the households from baseless threats of removal from the program if they will not support political entities in the upcoming elections.
The Pantawid Pamilya is a human development program of the national government. It is also a social protection strategy that invests in the health and education of poor children age 0-14 years old. It is widely known as the Philippine conditional cash transfer program. As of January 9, 2013, the program has 3,843,502 household beneficiaries and operates in 1,605 cities and municipalities in 79 provinces in all 17 regions nationwide.
 In region 02, the program has a total of 92, 628 households beneficiaries from the provinces of Cagayan with 30, 467; Isabela with 44, 030; Quirino with 6, 547 and Nueva Vizcaya with 11, 548 household beneficiaries respectively. ### (Social Marketing Unit)