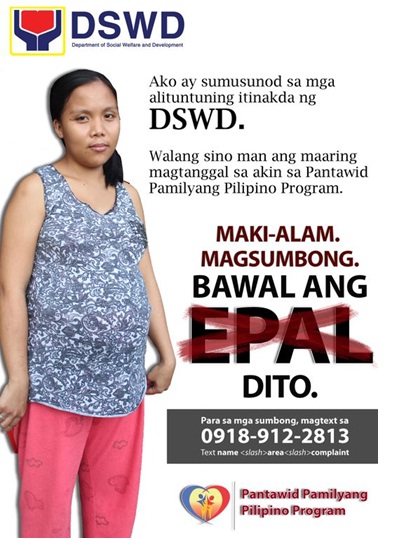 Due to the reports that there are politicians who use Pantawid Pamilyang Pilipino Program for their personal advantage in the upcoming May 2013 election, the Department of Social Welfare and Development will launch its nationwide movement dubbed as the "anti-epal" campaign.
The "anti-epal campaign" will use of different mediums to empower beneficiaries of their rights, so that they will not be easily threatened by politicians who claim that they can delist names if they will not vote for them.
The campaign will also intensify the knowledge of the beneficiaries that only the DSWD National and Regional Office have the right to delist beneficiaries especially if they have low compliance with the conditionalities of the programs.
The P10.5 million budget will cover personnel services, maintenance and other operating expenses and capital outlay. The fund came from the DSWD's social marketing service (SMS), a unit that helps in the development of the department's various programs.
Presently, the Pantawid Pamilyang Pilipino Program, which DSWD implements, provides cash grants to more than 3 million poor beneficiaries. Enrolled families get a monthly cash grant of P500 to cover healthcare costs while each child below 14 gets P300 for education.
The "anti-epal campaign" is part of the advocacy of the DSWD to ensure that the beneficiaries know they are in the program because they are qualified beneficiaries as identified by the National Household Targeting System for Poverty Reduction (NHTS-PR).
Consequently, any DSWD staff is apprehended from being involved in any activity of a political group or figure. Anyone who will be complained will be immediately suspended even before the investigation starts. ### Social Marketing Unit, DSWD Field Office 02