A mother's hope of providing a better future for her kids seems to be hard to grasp when she fell victim to deception and abuse. But without losing her grip, she returned home and started over again.
Jenny Rose, 26, is a plain housewife and a resident of General Aguinaldo, Ramon, Isabela while her husband is a tricycle driver at the time she thought of working overseas. They are still paying a monthly amortization of Php6, 000.00 for their tricycle.
The scarcity of work opportunities in their hometown motivated Jenny Rose to work in Lebanon with the prodding of some friends who promised to help her find a job. She loaned money from her relatives, neighbors and friends to pay for her travel documents and expenses.
As fate would have it, her efforts proved to be futile. The promise of a job never came true. Before she could even depart from Philippine shores, her dreams were cut short.
"Bukod po sa panghihinayang sa perang nagastos, napahiya po ako sa magulang ko, mga kamag-anak at mga kaibigan na nagpahiram ng pera at lalong masakit iyong mga bulong-bulungan sa aming lugar ng ako'y bumalik at nagging  tampulan ng usap-usapan ang panloloko sa akin ng recruiter," shared Jenny.
She also feared that her recruiter will go after her as she was threatening her in text messages because they have given statement to the authorities in Zamboanga where she's supposed to depart.
Jenny got back on her feet and brushed aside the nasty talks about her ill-fated job abroad. For this reason, she wanted to stay with her parents who are in General Aguinaldo, just a 20-30 minutes ride to Poblacion Ramon, Isabela while their experience and case is still a hot issue.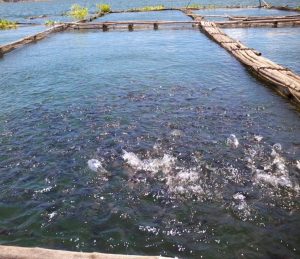 Jenny Rose's parents are engaged in fish vending and they have fish pond (Tilapia and other kinds of fish) within the Magat Dam.
Jenny Rose also wanted to engage herself in such income generating project but have no capital yet. Her parents could not also provide for her because they were the ones who provided for some of her expenses in her application and supposed flight to Lebanon.
Last July 1, 2011, Jenny Rose was provided with  livelihood assistance amounting to 10, 000 pesos to engage in buying and selling of fish under DSWD's Recovery and Reintegration Program for Trafficked Persons.  She started her business immediately upon receipt of her livelihood assistance. She sells her goods not only in General Aguinaldo market but also in the provinces of Quirino and City of Santiago with the help of her husband.
After a couple of months, Jenny got pregnant with their 3rd child but due to her difficult condition, she and her husband decided to invest their income into fish cage and a sari-sari store. Her husband Elwin continues to sell their fish in Gen. Aguinaldo market every morning and also dabbles  as a tricycle driver. On the other hand, Jenny is responsible in taking good care of their sari-sari store.
Despite falling prey to an illegal recruiter, Jenny still considered herself  blessed because she was given the chance to bounce back and provide for her family without having to be away from her children.
Their micro enterprise seems to be doing well. According to Jenny, one cage of fish harvest holds up  300-500 kilos of fish and sells up to P40, 000 per harvest.  They had already two cages and plan to expand it once they have already enough savings.
While she learned her lessons the hard way, Jenny finds comfort in knowing that her family will always be there for her. Most importantly, she is grateful that DSWD Field Office 02 rescued her from the turmoil that she went through. ### By: Gela Flor r. Perez, Regional Information Officer II