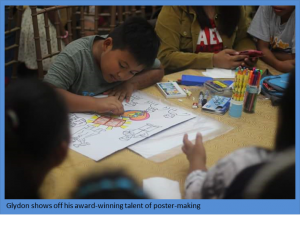 In a white gated building, a handful of boys and girls are joyfully frolicking around its small space. Clad in their white and blue uniforms, they are taking advantage of the one-hour lunch break with a game of simple tag. One of those kids is 12-year-old Glydon John Pineda, from the town of Mallig, Isabela. He looks as energetic and cheerful as any kid in the roster, but that is where the similarities with other kids end.
Glydon, as he is called by many friends, is one of the beneficiaries for the Pantawid Pamilya Pilipino Program. He is in the 6th grade this school year, the youngest child to be born to Mr. Rendon Abala Pineda, a farm worker and Mrs. Gladys Pineda, a homemaker. He has one other sibling who is now in Junior High School.
The family lives in a two-room home of mixed light materials which is sometimes submerged with river water when the Cagayan River is flooded. Mr. Pineda's meagre income is barely enough to sustain living expenses, and yet their home needs constant repair to keep it habitable during the rainy season.  This is further aggravated by the children's ballooning educational expenses.
As the lunch bell rings, the children stop and hurriedly walk back to the classroom, it is the end of their break. Glydon walks up to the front of the line to check whether everyone has arrived, he is a class officer too. His classmates look up to him and follow his instructions. His confidence does not waver despite his being in that private school under a full scholarship.
He says he feels bad for other kids because their parents are too busy with their jobs that they hardly have time for each other whilst for him, his parents always make it to a point to allot time to attend to his and his sister's academic needs. Indeed, this bore fruit, as Glydon has been consistently at the top three of his class since kindergarten, the last 2 years garnering the top rank. His academic distinction go by the bucket as he has also bagged the Best in Mathematics, Science, Filipino, English and ArtAsked whether he ever feels discriminated from the group, his response is refreshing: "I know I am different from the other kids who go here because my family is a beneficiary of the Pantawid Pamilya program. We don't have a nice house or a car or nice clothes and new things, but I don't complain because we have a home, we eat 3 meals a day, we can go to school and we don't get sick as often."
Aside from his academic prowess, he is also active in extra co-curricular activities. In sports, he is involved in badminton, even becoming an MTAP qualifier for it. He has also been consistently bagging the first prize in poster making and slogan making contests in school and inter-school competitions. It is even a joke among his peers that he should refrain from joining all contest categories so that others may have the chance at placing first.
The teachers are all praises for the young achiever, his adviser describes: "He is not one to automatically stand out in a roster of students but you will notice his consistency and enthusiasm above everybody else's. He also has the initiative to act, not needing to be told twice in order to follow directions. He relates well with the girls more than he does with other boys, but maybe that's because he's not much into the aggressive games the boys like to play."
To become an architect is his biggest dream and says he's dedicating it to his parents. He knows it is not going to be as easy as the family lacks the resources necessary to send him to an Architectural school, but he has laid his plans. He does not see poverty as an obstacle too great to prevent him from pursuing his dream. After all, he is finishing the first 6 years of elementary school with top honors under a full scholarship.
As an exemplary child experiencing first-hand the devastation brought about by typhoons and flashfloods, he promotes environmental protection and rehabilitation. He strongly believes that unsustainable man-made activities have contributed to the denudation of forests. The forests serve as buffer against the effects of natural disasters such that without it, communities have become vulnerable. He believes it is up to them, as the next generation, to make sure to restore the natural balance of the environment.
He is an achiever, a dreamer, and an advocate of change. He is Glydon John Pineda, Region II's Pantawid Pamilya Exemplary Child of 2016. ### By: Jeanet Antolin-Lozano, Pantawid Pamilya Information Officer II