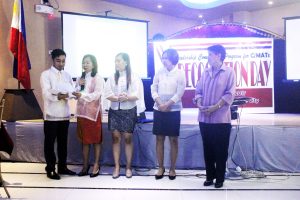 A total of ninety-three (93) City/Municipal Action Team Leaders and Members received their Certificate of Completion on Personal Efficacy and Leadership (CCPEL) Course during the Leadership Convergence Program Recognition Day held at Taj Hotel on January 20, 2017.
DSWD Field Office 02 Regional Director, Ponciana P. Condoy congratulated the graduates for their industry and enthusiasm in the program.
She shared her on thoughts on the course: "This training program is for you to pursue becoming good leaders to bridge the gap of poverty and be able to alleviate the living conditions of the poor. You have all the potential, you only need to realize that as workers, you have to outgrow your fears and shyness and apply the bridging leadership skills that you learned."
"With all the difficulties I encountered during my service with DSWD, I chose to stay. Treat your appointments as diamonds. The things you learned should be treated with importance as well as applied. More importantly, always practice a positive attitude!" Condoy added.
The course on Personal Efficacy and Leadership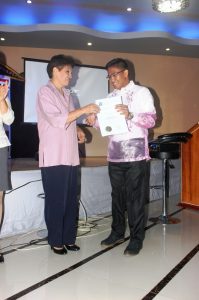 The CCPEL is a three-unit academic course focused on leadership and managerial skills needed by Municipal Action Team Leaders to efficiently perform their tasks and deliver outputs with more than satisfactory outcome. It is offered by the Development Academy of the Philippines (DAP) through the Graduate School of Public and Development Management's Institute of Public Management (GPSDM-IPM) in partnership with the Department of Social Welfare and Development, Field Office 2 (DSWD-FO2).
The comprehensive training course comprising of five modules employed the learner-centered approach where interactive lectures and group work was conducted to futher the students' competencies on systems thinking through sample scenarios/cases/situations commonly encountered in the community. The course was intermittently run on the months of April, May, September and November.
At the end of module 5, one C/MAT representative per province defended their program output and accomplishment signifying their completion of the program. ### By: Jeanet Antolin-Lozano, Pantawid Pamilya Information Officer II