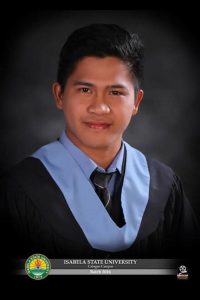 Life is full of blessings. Blessings sometimes come in the most unexpected times and places. Blessings also come as opportunities. It is up to us to grab these chances and make something out of ourselves.
I am Alvin Guting, a native of Delfin Albano, the third child of Loida and Ernesto Guting. I grew up staring at poverty in the face. My parents struggled to make ends meet as my father worked as a laborer and my mother as a housemaid. They earned a combined four thousand a month which is not enough to feed a family of seven.
My family became a beneficiary of Pantawid Pamilyang Pilipino Program as early as my secondary school, and it has greatly supported my siblings in their primary education. However, as soon as one of my elder siblings entered college, the burden of providing for the family became too huge for my parents. I resolved to help out my family and temporarily put my ambition on hold.
For 2 years I worked as a carer for a young child and took tutoring hours on the side. I sent the money I earned to my family to help out with my sister's education. When time finally came for me to have a chance at tertiary education, my savings have all been spent on more pressing needs for the family. That didn't deter me. My parents were even more determined to help me finish college and that became the source of my strength to go on. I enrolled for a Bachelor of Science degree in Secondary Education at Isabela State University, Cabagan Campus.
Unfortunately, on my third year, my father succumbed to death, and again I was indecisive. It was a choice to go on and give the burden to my poor mother or put my dreams on hold once more to help provide for my family. My mother made the decision for me as she refused to let me work and instead urged me to continue my studies. She would always remind me, "Never give up," and I held on to her steadfast faith in me.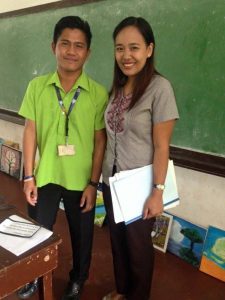 An opportunity came in 2015 when I was chosen to be one of the recipients of the Expanded Students Grants-In-Aid Program for Poverty Alleviation (ESGP-PA). Although it only came in the last year of my college education, it still greatly eased the burden on my mother. With renewed vigor, I finished the course in 2016 and immediately took the licensure examination. My years of sacrifice was rewarded with a license to teach and a teaching slot as a senior high teacher for St. Ferdinand College of Ilagan city.
But I am not stopping there, opportunity has once again landed on my doorstep as I now compete for "Ranking" with DepEd. I am young, I will face more challenges and probably will make more sacrifices. But I am not discouraged, I have come to learn to expect the unexpected and fight to win.
### Story by Wilma M. Pascua