The Department of Social Welfare and Development Field Office 02 (DSWD FO2) in partnership with the Provincial Government of Isabela opened its newest office in Ilagan City, Isabela last May 02, 2018. This was brought about by the constant coordination of the Field Office OIC – Regional Director, Dir. Lucia S. Alan and the Social Welfare and Development (SWAD) Team Leader of Isabela, Ms. Valentina C. Monterubio.
Though the Field Office is grateful to the old office provided for the SWAD, the sheer number of clients coming and going cannot be accommodated. Hence, the lobbying for a new office. The new building, with its interior and exterior fully furnished, has a size of 396 sq. m. The said office is now being used by the SWAD Office of Isabela.
Ms. Monterubio said that the additional space of the new office provides the staff with better working conditions as well as a sizeable area where clients can be accommodated.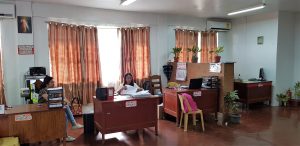 "Kami ay masaya na nakapilat na at bago yung nilipatan naming office" Ms. Monterubio said.
Dir. Lucia S. Alan meanwhile acknowledges the assistance provided by the provincial government and believes that the endeavor is another step forward in the continuing partnership of the Department and the Provincial Government. The support provided by the Provincial Government has always been seen as crucial and indispensable in the implementation of the programs and services of the DSWD.
SWAD Isabela is one of five SWAD offices throughout Region II, with the other four located in Batanes, Cagayan, Quirino and Nueva Vizcaya, that caters to field office clients within the province in accordance with its mandate of bringing DSWD programs and services closer to the people. ### By: Leon Milan Emmanuel L. Romano, DSWD FO2 Regional Executive Assistant,  and Chester Carlo M. Trinidad, Information Officer II