Time check, September 13, 2018, 7:00 PM.
Murmurs turn into loud noises as field office staff struggle to keep things in check for the start of the disaster duty for Typhoon Ompong. People in the field office have been doing this for quite some time but there is an air of difference this time around.
Learnings from previous disaster experiences have made staff hyper-alert about what to do and how to get things done. No longer are they clueless about how to approach things, they seem to know what to do.
But knowing what to do and actually doing it are quite different, just as promising things is different and much easier to do than living up to your promises. But then again, this is disaster duty, and people in the field office are required to live up to their words because people's safety is at stake.
In the middle of all of this is Constancia Domingo of the Disaster Response and Management Division (DRMD). The diminutive lady with an iron will was tasked to consolidate the reports coming from the different Social Welfare and Development (SWAD) offices regarding pre-emptive evacuations and the like.
September 15, 2018, 1:40 AM
The typhoon started battering through structures, and in the process, destroying the newly-built warehouse and multi-purpose gym of the field office. The main building's third floor wasn't spared either. The ceiling collapsed under the pressure of the searing winds.
Soon thereafter, electricity was shut. No longer did Ms. Domingo have the means to communicate to people from the satellite offices to consolidate data.
"Mahirap noong oras na iyon kasi nawalan ng kuryente. Mahirap kumuha ng data at wala ring paraan para magpadala ng impormasyon sa taas (central office)," Ms. Domingo said.
But she couldn't sleep too because someone had to man the Quick Response Team (QRT) that night. She thought that maybe the winds would die down soon so she could continue consolidating reports for submission afterwards but it didn't. The winds continued pounding the building like there's no tomorrow. It became horrifying.
Ms. Domingo started thinking about the safety of her little kid and husband whom she had to leave that night so she could report to the office. Her husband wasn't feeling alright too. He was earlier diagnosed with a heart condition that needs to be operated as soon as possible.
She thought about leaving the office to check on them but the winds and the threat of debris falling on her were too dangerous to ignore. She couldn't call or text them too.  The problems continued piling on.
But just like a soldier who continues to march on despite the obvious danger, Ms. Domingo soldiered on with her task. She prayed and gave everything up to her God.
September 15, 2018, 12 Noon
The winds were no more and the people in the field office were allowed to go outside to check the remnants of Ompong. The destruction was apparent and Ms. Domingo couldn't believe what she saw. Buildings, trees, posts and houses were devastated. Some roads were blocked by debris. There were blots of flooded areas and ruined rice and corn fields. She thought of the people who were affected. She had a moment of grief, and at the same time, a very strong urge to immediately respond to their needs.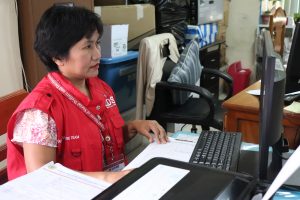 Despite the traumatic evening, service is passion for Ms. Domingo, so she continued doing her job with vigor – coordinating with people, consolidating reports and the like. She says that no amount of money can compensate the fulfillment she gets from being able to serve the marginalized.
"Humuhugot tayo ng lakas sa mga taong tinutulungan natin. Hindi naman kalakihan ang sahod sa ginagawa natin pero ang pagtupad sa ating tungkulin at ang pasasalamat na natatanggap natin sa ating mga natutulungan ay sapat na," Ms. Domingo said.
It is during these times that a public servant's heart is tested. Those who serve wholeheartedly come out stronger and wiser, while those who lack the passion end up quitting. Ms. Domingo, who surpassed typhoon Ompong feeling braver and more equipped, says that she will still continue to render service no matter how strong the future typhoons can get. ### By: Chester Carlo M. Trinidad, Social Marketing Unit