The Department of Social Welfare and Development Field Office 02 (DSWD FO2) has started conducting preparation activities for the imminent arrival of Typhoon Mangkhut later this week.
The field office's Disaster Response and Management Division (DRMD) already distributed 21,700 family food packs to the provinces of Cagayan, Isabela, Quirino and Nueva Vizcaya as preparation for the typhoon.
The province of Batanes meanwhile has 432 prepositioned sacks of rice ready for distribution, 72 sacks of which are in the provincial office, while the 6 municipalities of the province has 60 prepositioned sacks of rice each.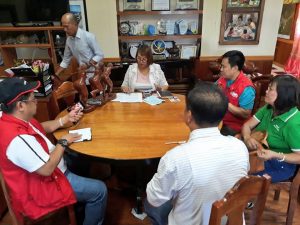 Mr. Rommel Gamiao of the DRMD led a team that went to Batanes today to conduct preliminary meetings with the Provincial Disaster Risk Reduction and Management Council (PDRRMC) as well as to check the condition of the province's evacuation centers.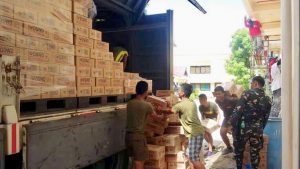 The DSWD FO2 warehouse meanwhile has 5,000 available family food packs, 1,000 hygiene kits, 2,500 collapsible water carrier with purification water tablet and 1,000 sleeping kits ready for distribution in case Local Government Units need augmentation.
Members of the Philippine Army also assisted in the stockpiling of family food packs in the field office.
OIC – Regional Director Lucia S. Alan said that the converged efforts of DSWD staff along with support coming from partner agencies is needed for a quick response to the places to be affected by the above-mentioned typhoon. ### By: Chester Carlo M. Trinidad, Regional Information Officer