November 2, 2018 – In the wake of typhoon Rosita, the Municipal Disaster Risk Reduction and Management Committee (MDRRMC) of various municipalities in Cagayan have simultaneously commenced its relief operations to approximately 4,213 families affected in 25 municipalities of the Province of Cagayan.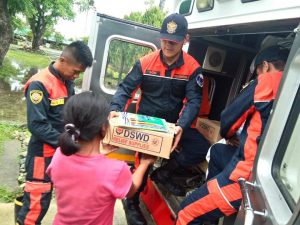 Prioritizing the 4,213 families currently housed in evacuation centers, family food packs were distributed by Municipal Action Teams (MATs) of the Department of Social Welfare and Development Field Office 02 (DSWD FO2) amidst rain and moderate winds with assistance from the Office of the Civil Defense (OCD) and staff from local government units (LGUs).
In Lasam, 131 families were previously evacuated after their homes in low lying areas and near riverbanks have become unsafe from the quickly swelling Cagayan river.
"The unrelenting downpour of rain cannot deter us from delivering the much needed food packs because we know these families have lost or left their belongings after being evacuated from their homes," says Jose Alvin Antiola, the Municipal Link at Lasam, Cagayan.
On the other hand, Kenneth Jay Acidera, a Social Welfare Assistant of Penablanca, Cagayan recounts how difficult it was to traverse places where water levels have consistently risen since the landfall of the typhoon on October 30, 2018.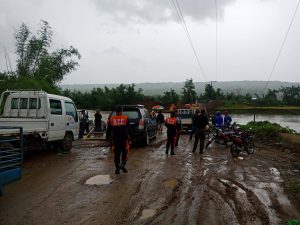 "It hasn't stopped raining since last night and the Tawi bridge here is already impassable. We know we had to deliver the food packs for Callao area before the only other bridge in Cabasan gets completely submerged in river water. We had to act fast," Mr. Acidera said.
Penablanca, one of the southern towns of the province, is bounded by both the Cagayan and Pinacanauan rivers where continuous rain usually causes the swelling of the rivers that would isolate some barangays of the town.
The quick response was activated by the LGUs in response to the needs of displaced families due to the rising water level of the Cagayan River and its tributaries followed by the subsequent opening of one of the water gates of Magat Dam in Ramon, Isabela as early as October 29, 2018 causing massive flooding in 13 municipalities. ### By: Jeanet Antolin-Lozano, Social Marketing Unit