Pieces of wood, chisel, hammer and other carving tools, these are Tatay Mario's constant companion to get by. His hands show the scars as badges from his years of carving. He patiently uses pieces of wood as his canvass and meticulously carves every single detail of his masterpieces. Mario G. Namaggo, an emigrant from Ifugao Province, resides in the coastal town of Sta. Ana, Cagayan.  His childhood memories would always remind him of a life of poverty, albeit one that he actively fights to be liberated from.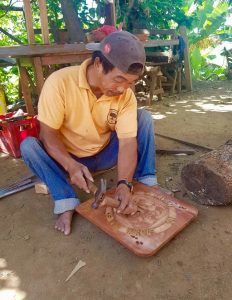 The Municipality of Sta. Ana is situated in the north easternmost point of Luzon. The community prides in their pristine beaches, lush slopes and abundant marine resources. It is even tagged as the Boracay of the north for its world class shorelines. The Cagayan Economic Zone Authority (CEZA) is also situated in this locality where most of its commercial and industrial activities take place. The livelihood opportunities are a mixture of agricultural and commercial. Its main produce are seafood, lumber, rice and corn. Majority of the locals are fisher folks who rely on what the sea can offer.
Tatay Mario married Nanay Maribel in 1995 and proceeded to build a family. The couple was blessed with six children. Soon enough the couple felt the struggle to provide for the needs of their growing family. During that time, Tatay Mario worked as a wood carver under a private employer. He only earned on a percentage basis depending on his contract with the employer. Their fate was even tested when the business of his employer went bankrupt and left Tatay Mario unemployed. To meet ends, Nanay Maribel was forced to peddle vegetables, fish and snacks in their neighborhood. To be of help, Tatay Mario collected drift wood, transformed it into souvenir items and sold it. Day and night he relentlessly worked for his family without minding his physical agony of being differently abled. To make the most out of the skill of Tatay Mario, the family decided to accept orders and venture in furniture making and wood carving. Since 2013, they continued with the said venture despite meager revolving fund and minimal tools to work with.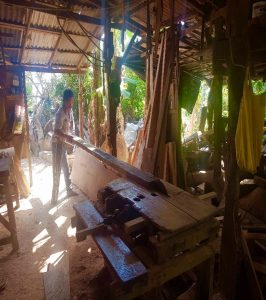 In 2017, the Sustainable Livelihood Program opened an opportunity for the couple to further expand their venture. Nanay Maribel underwent Basic Livelihood Training (BLT) and received Seed Capital Fund amounting to P10, 000.00. The couple used the fund to purchase raw materials and additional carving tools. They started making personalized wooden crafts, souvenir items, pieces of furniture and home decors. Aside from that, they now provide lumber/timber cutting and shaping services.  They cater clients within barangay Marede, nearby barangays such Dungeg, San Vicente and Centro. As part of their good management style they uphold quality service and workmanship. With that, they were able to gain big clients such as resorts and hotels in Sta. Ana and nearby municipalities of Gonzaga and Sta. Teresita. The Local Government Unit (LGU) of Sta. Ana also showed support as they serve as a regular client. For custom pieces,
the couple earns an average of P5, 000.00-P6, 000.00 per contract. On labor alone, the couple earns an average of P3, 200- P6, 000.00 per contract. The steady income supports their children which they struggled to provide before. Apart from that, their learning on BLT enhanced their know how on managing their business.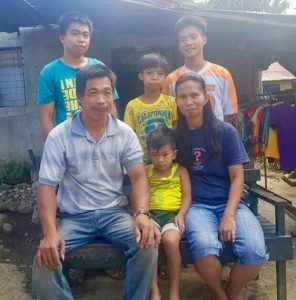 The couple has now been able to expand their furniture shop and has acquired additional assets such as a wood cutting machine and a curving machine. They also purchased a kolong-kolong (transport service) to reach a larger market and cater to the demands of their clients outside the municipality. More than the expansion of their business, the couple takes pride on being able to send their eldest child to college, something they consider their greatest achievement yet. Now, they have the very first degree holder in the family, a licensed teacher that fulfilled Tatay Mario and Nanay Maribel's dream. Their daughter is currently teaching in San Vicente Elementary School. She is now helping the family especially in the school needs of his five siblings as a way of giving back for the sacrifices of her parents.
"Binigyan ako ng Diyos ng mga kamay na kayang lumilok ng obra, kaya naman itong mga kamay na to ang lililok sa kinabukasan ng aking mga anak. Nagpapasalamat ako sa SLP, malaking tulong samin ito upang mapalawak ang aming nasimulang negosyo", Tatay Mario said. ### By: Melisen A. Taquiqui, Sustainable Livelihood Program (SLP) Social Marketing Officer