May 20, 2019 – Just as information is crucial for every organization as a guide in decision-making and problem-solving procedures, the same is just as important for clients to be able to earn their trust and ensure good costumer service.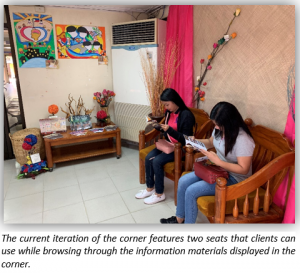 With this is mind, the Department of Social Welfare and Development Field Office 02 (DSWD FO2) recently installed the Social Marketing Corner, complete with copies of the Pagbangon and Pagsibol Compendium of DSWD FO2 Success Stories, brochures and other Information, Education and Communication (IEC) materials about the different programs and services of the agency, artwork of Pantawid Pamilya Regional Children's Congress participants as well as products of Sustainable Livelihood Program (SLP) beneficiaries.
The corner is also complete with chairs that clients can use while reading and checking the different information materials of the field office.
The corner aims to give information about the agency's programs and services as well as display the products of beneficiaries as a way of increasing their marketing opportunity to clients whilst waiting for the completion of their transactions.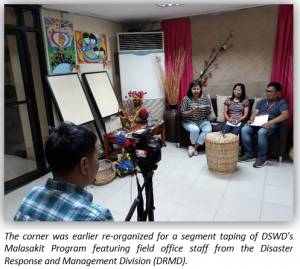 The said corner was first used during the launching of the above-mentioned compendiums last April 11, 2019 along with the visit of DSWD Secretary Rolando Joselito Bautista.
It was also re-arranged when it was used as a makeshift studio for the taping of a segment for the DSWD Malasakit program of the Social Marketing Service (SMS) last May 5, 2019 where staff from the Disaster Response and Management Division (DRMD) were interviewed about the implementation of the Emergency Shelter Assistance (ESA) and Cash for Work (CFW) for Typhoon Ompong beneficiaries.
The corner shall undergo additional changes to cater to additional information materials that will be produced by the office for the year. ###