June 10, 2019 – The field office, through its Sustainable Livelihood Program (SLP), recently conducted a training on Mushroom Production at the Department of Agriculture – Southern Cagayan Research Center (DA-SCRC) in Iguig, Cagayan.
The activity, which was conducted in tandem with DA, catered to 14 SLP beneficiaries from two Sustainable Livelihood Program Associations (SLPAs) from the town of Amulung, Cagayan.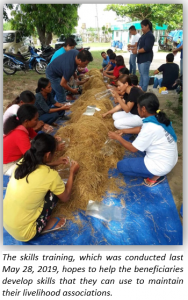 The training consisted of modular lecture and hands-on demo to capacitate the participants with needed skills to succeed in the production of mushroom. The topics discussed included the overview and benefits of mushroom production including its varieties.
The DA lecturers who lent their expertise to the skills training were Ms. Merlita M. Collado and Mary Rose Matote, both laboratory technicians of the center.
Ms. Eleanor Tabay, an SLPA member who participated in the training, mentioned how important it was for her and her SLPA to be capacitated with skills that they can soon use to start their own business.
"Agyaman nak iti DSWD ken DA-SCRC ti tulong da kanyami. Nanayunan manen iti adal mi ket isu ti aramaten mi tapnu mapatanur mi nga nasayaat ken agtultuloy daytoy livelihood mi. (I am thankful for the help given to us by DSWD and DA-SCRC. It added to our knowledge which we will use to be able to sustain our livelihood for a long time.)"
The SLP is a program that aims to capacitate poor and marginalized households with skills to be able to engage and maintain a thriving livelihood. ###