July 28, 2019 – Five (5) individuals were given psychosocial and food assistance after being airlifted from Itbayat, Batanes yesterday by an air force plane to be taken to Batanes General Hospital (BGH) for immediate medical attention in the province's capital, Basco.
The said interventions, given by social workers of the Social Welfare and Development (SWAD) Batanes, were meant to help the victims recover from the disaster they experienced.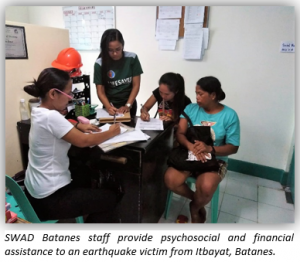 The victims were also given financial assistance amounting to P5,000.00 each as part of the agency's Assistance to Individuals in Crisis Situation (AICS) as further aid.
DSWD Secretary Rolando Joselito D. Bautista also convened with other cabinet members earlier today in Batanes Airport for a briefing with President Rodrigo R. Duterte to address the relief operations that are being conducted to address the aftermath of the earthquake.
SWAD Batanes Team Leader Amparo Tobias travelled by motorboat to Itbayat, Batanes at 10 AM today to closely work with Provincial Social Welfare and Development Office (PSWDO) staff and the Municipal Social Welfare and Development Office (MSWDO) of Itbayat for immediate provision of DSWD support/assistance.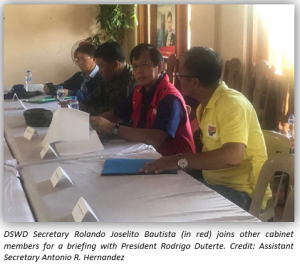 As of the 3 PM progress report of the field office, a total of 9 lives were claimed, 63 individuals injured, and 2 missing persons as per report coming from the Batanes Provincial Disaster Risk Reduction and Management Office (PDRRMO).
A total of 158 Family Food Packs (FFPs) were accommodated by the C130 flight going to Batanes today to augment the existing 200 FFPs prepositioned in Basco, Batanes to be delivered in Itbayat, Batanes. ###