Bayombong, Nueva Vizcaya – Pantawid Pamilyang Pilipino Program (4Ps) beneficiaries in Bayombong reap the harvest of their communal livelihood activities despite difficulties brought about by the present Covid-19 pandemic.
Petchay for All
In sitio Pawak, 12 4Ps beneficiaries from the Modified Conditional Cash Trasfer (MCCT) revived their communal garden and started doing communal maintenance works. Using their own savings, the group purchased materials and planted eggplant, gabi and petchay on February this year.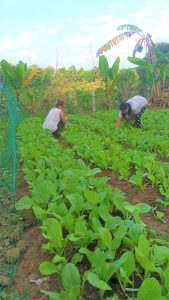 Since the sitio is somewhat isolated, there was a low risk for transmission but the members still adhered to limitations on social gatherings, they took on a specific day/schedule to do watering, weeding and other maintenance activities 2-3 person at a time.
This month, they have started harvesting their petchay produce with an average of 30 bundles per day and selling it for fifteen pesos per bundle. To date, the group has earned around 2,000.00 pesos from their produce and still have enough to sell for the next couple of days.
According to their parent leader, since all of the members have their own backyard garden, the vegetables they harvest from the communal garden are purely for sale. The group plans to save their income for another livelihood project in the future.
For Gabi Lovers
In sitio Kalingkingan, barangay Buenavista, Regular Conditional Cash Transfer beneficiaries started planting gabi (yam) and peanut in their communal garden last March 2020. With their efforts, their peanut harvest yielded 4,000.00 pesos income for the group which they re-used as capital for replanting and savings.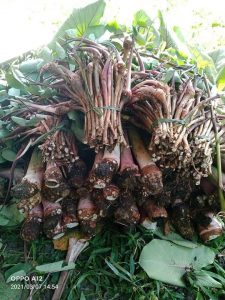 Last February, their gabi crops became viable for harvest and with it, the group started selling to non-4Ps households in the community and even delivered bulk of their produce at the local marketplace. The group was able to earn 9,500.00 pesos income from this activity.
With their unity, they were able to maintain a revolving fund which they now use for a small credit activity which earns an interest of 20 pesos per month for every 1,000.00 pesos loaned. This is aside from the continuous maintenance of their garden which they have now also planted with ginger.
Members plan to further increase their revolving fund in order to be able to have an emergency fund in case of sickness or death of members or their beneficiaries.
Life is Sweeter with Ginger
The Barangay Cabuaan Ginger Production in Cabuaan has been organized in 2017 for the implementation of the Support Services and Interventions (SSI) for MCCT in the municipality. The group, composed of 50 members, has decided to implement ginger production as their livelihood activity.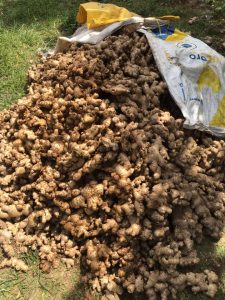 Ginger is harvested each year and sold at 93.00 pesos per kilo. Out of the proceeds, each member of the group has pledged a uniform amount of 15,000.00 of their earnings, payable in instalment, as the group savings and revolving capital.
The group harvests an average of 360 kilos of ginger annually which go directly to the local market since each member grow their own supply in their backyards. To date the group has built up savings amounting to 596,184.01 pesos which they now use as an investment and capital for other activities.
Mainly, the savings are used as emergency loan fund source for fellow members with medical emergencies or burial expenses. On the other hand, 150,000.00 pesos is used to open up a time deposit account while they continue to implement their ginger production.
###story from MAT Bayombong, written by Jeanet Antolin-Lozano