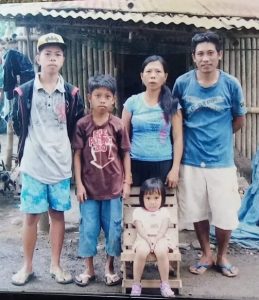 Edgar Paet has been part of the Pantawid Pamilyang Pilipino Program of barangay Baybayog, Alcala, Cagayan since 2012. He works as a seasonal carpenter in the community, while his wife, Ma Teresa, is a street vendor.
When the pandemic reached their town, their livelihood as a couple was greatly affected. Localized lockdowns and quarantines prevented Edgar from taking on construction works while limited mobility caused Teresa's sales to plummet.
Despite the hardships and low income the couple strived to support their three children John Edmar, Edgar Jr., Mary Chris and grandchild, Princess Jhoanne, with the help of the 4Ps program. Applying their learnings from the Family Development Sessions (FDS), Teresa prioritized basic needs such as food, medicines and education over recreation and entertainment.
However, Edgar's resolve was put to the test one day with his granddaughter's request. With the arrival of dry season, the weather became hot and uncomfortable. Prior to the pandemic, the children would frequent the nearby creek or irrigation to cool off but because minors were discouraged to leave their homes, they could no longer do that.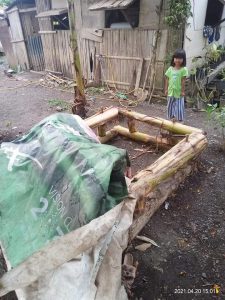 "Tatang gatangan nak man jay swimming pool nga pang ubing." (Grandpa, please buy me a kiddie pool) Princess, his 7-year old granddaughter begged him. He understood how much this meant for the young girl but with their current financial state, he could not afford it. It weighed heavily on him and he knew he couldn't break her little heart too.
Edgar was determined to find a way to grant her simple request. He started gathering banana stalks that he made into a frame using his carpentry skills. A large discarded tarpaulin was placed over the frame to complete the improvised pool.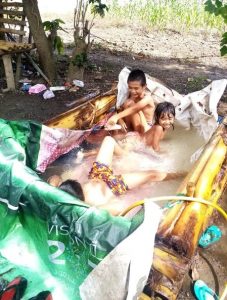 "Uray anya rigat ti byag nu para ti pamilyak, nangnangrunak iti apok, aramidik amin nga makakayak" (No matter how difficult life can get, if it is for my family, especially my granddaughter, I will do everything I can), Edgar declared.
###Story from MAT Alcala and Red-Gelo Agbayani, re-written by Jeanet Antolin-Lozano