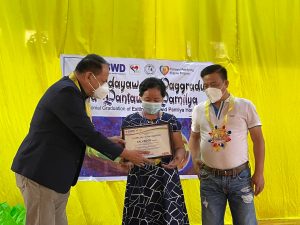 Naguilian, Isabela – Ninety-two (92) more households from the province of Isabela exited from the Pantawid Pamilyang Pilipino Program (4Ps) during the Pamaddayaw na Paggradua na Pantawid Pamilya held at Jesus Miranda Sports Complex of San Mariano on November 18 and Naguilian Community Center in the town of Naguilian on November 19, 2021.
The event came after the same graduation ceremony was held by the Department of Social Welfare and Development Field Office 02 (DSWD FO2) at Ilagan Sports Complex for 50 exiting 4Ps households from the City of Ilagan on November 16, 2021. Of the 92 exited households, 37 out of the 63 households from San Mariano attended the event while 19 out of the 29 exited households from Naguilian attended.
"This recognition and celebration of the 4Ps graduates is a manifestation of the impact of the program to the people," said Cezario Joel C. Espejo, Regional Director of DSWD FO2. He also congratulated the self-sufficient households for being the program's advocates and living proof in the country's goal to break the intergenerational cycle of poverty.
Aanjay Balao from Disusuan, San Mariano was selected to give her inspirational message to other graduates in San Mariano. Balao, who graduated cum laude, expressed her gratitude for being part of the program and for having accomplished beyond expectations as she is now gainfully and permanently employed as a teacher under the Department of Education. "Kung noon ang pinakamasarap na pakinggan at lagi ko din talgang inaabangan ay iskedyul ng pay-out namin, ngayon, sahod at bonus na (If back then I looked forward to the schedule of our pay-out, nowadays it's payday and bonus)," she jokingly adds.
Similarly, Jenny Sun Laguido from barangay Burgos in the town of Naguilian gave also her testimony during the graduation held in Naguilian. She related that prior to the program, their meals were composed of only rice and thin soup just to ease the grumbling of their empty stomachs but upon entry to the program, their lives gradually changed. She further imparted that with the help of the Expanded Students Grants-In-Aid Program for Poverty Reduction, her two eldest children graduated from college with one employed as an accounting staff and the other a full-fledged Special Action Force (SAF) trooper.
In closing, Laguido said, "Adda pay laeng dagiti annak ko nga pagadalek ngem ammok met nga kabailan mi ida nga mapabasan gapu ta adda metten napagturpos mi nga annak nga mabalin tumulong kadakuada. Dakkel la unay iti panagyaman mi kadaytoy nga programa ken sapay kuma nga ad-adu pay iti matulungan na (I still have other children that I have to send to school but I know that our family will be able to because my older children can help me make that happen. I am extremely grateful to the program and hope that more families will benefit from it)."
Another highlight of the program was the ceremonial turnover of case folders from the Municipal Operations Offices of 4Ps to the Local Government Units (LGUs) symbolizing the LGUs assumption of responsibility in the provision of aftercare services to the exited families. As an initial incentive, each family graduate was given 25 kilograms of rice and gift packs with the correlative commitment that the local government shall continue to provide access to health, education and social welfare services to the families.
According to DSWD FO2 data, there are 7,543 out of 48,530 4Ps households in Isabela province assessed as level 3 or self-sufficient category who are now being socially prepared to transition out of the program.
###story by Jeanet Antolin-Lozano