The Baking Dad
Eights cups of white flour, three table spoons of sugar, two ½ table teaspoon of salt, two 2/3 cup of lukewarm water, one ½ table spoon of oil, yeast and effortful kneading are the prime ingredients of pandesal made by Dexter ready for an early morning traditional Filipino breakfast for the hungry residents of San Ramon.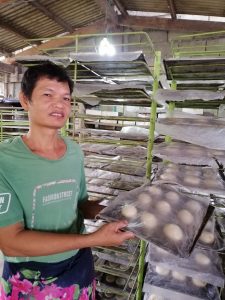 The art of baking is no longer new to Mark Dexter De Guzman, a father of three from San Ramon Mallig, Isabela and a recipient of the Livelihood Assistance Grant (LAG) of the Department of Social Welfare and Development Field Office 02 (DSWD FO2) through its Sustainable Livelihood Program (SLP).
Mallig, Isabela, being a 4th class municipality in the province of Isabela is predominantly covered in agricultural land. Because of this, the residents resort to farming rice and corn as their primary source of livelihood. With a moderate economic activity and rural environment, Mallig takes a slow-paced industry propelled by local trade and produce.
Baking entails the right proportion of everything: precision, perfect measurements, exact choices of ingredients, tools and precise temperature.  A good baker knows that being keen to every detail is necessary to achieve the desired taste, smell and texture.
For 14 years Mr. De Guzman was accustomed to baking and was employed initially as one of the staff of a local pastry shop in Cabatuan, Isabela. His interest grew and eventually became a home-grown baker. His love for baking also led him to find his better half, Rowena, one of his co-workers.
"Of all the things that I do, baking is what gives my life the most meaning. It is rare to find a job that blends my passion and provides for the needs of my family. I wake up every day excited because I know that the customers like the bread I make."
Soon enough Dexter and Rowena built a family and were blessed with three children. As the family grew, so as their needs. Due to his inadequate income, he felt the pressure to provide the pressing needs of the family.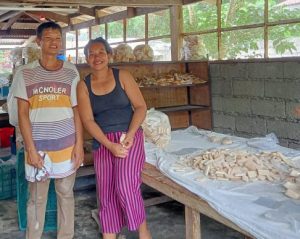 "It was not easy to make both ends meet." Dexter recalled as he suddenly shifts into remembrance of the struggles they had to face when they started a family. "Our income was enough for the both of us, but with three children, I knew I had to do something more."
He decided to venture into hog raising with the hope of having additional means, however, due to a devastating typhoon and weather changes, the hog-raising venture did not succeed. He vividly recounts that day when they almost got evicted from their house due to unpaid rentals.  The financial difficulties led him in great debt from friends and family.
"We were living in debt. I borrow money this week then borrow again the next. I lost my pride as a father knowing that I cannot provide for my wife and children. We were the literal embodiment of isang kahig, isang tuka. Life, back then, seemed like a never ending cycle of dreadful circumstances."
Together with his wife, they tried their luck on baking and put up their own small bakeshop. Initially, they rented equipment and borrowed money from micro-finance institution for capital.
As the COVID – 19 pandemic hit, their bakeshop was inevitably affected. Due to the imposition of strict community quarantine protocols, their sales gradually dropped since they encountered difficulties in delivering their products to regular customers. The restrictions were prolonged and they were left no choice but to produce less since the demand was very low.
"I thought the bakery was our saving grace. The income was enough at the beginning and we were able to get by day by day but life is clever. We never thought a catastrophe this big would affect us. In no time, we were back to square one."
It was yet another setback for Dexter and Rowena when they were depleted of resources to continue their small business. When there was no one else to turn to, they sought help from their Local Government Unit (LGU).
LGU Mallig, Isabela endorsed Mr. and Mrs. De Guzman as target recipients of LAG. They underwent validation and assessment by the SLP and received P10,000 seed capital in August 2021. They used the grant to restart their bakery by purchasing baking essentials such as roller, oven, trays, cabinets, and raw materials. Just like the basics of baking, Dexter employed the same procedure on how he handled the assistance given by DSWD. Allocating every portion of the grant with precision in order to maximize it.  While the current situation shows a semblance of normalcy because of more lenient protocols, they also felt relieved because their enterprise is gaining back its momentum. With the assistance given, they utilized an average of 25 sacks of flour in their daily production as compared from the three (3) sacks of flour prior to the intervention. Their production doubled and they are currently supplying to 120 stores within the municipality and one (1) barangay in the municipality of Quezon, Isabela. They now earn an average monthly net income of P16, 800 which supports the daily needs of the family and more. Part of their profit was also allocated to purchase additional baking equipment and sidecar to widen delivery reach. Having experienced the impact of pandemic, Dexter ensures that he saves a portion of their income and invests in his secondary project–hog raising.
Over the years, baking has been the constant of Dexter. For him, it is not merely a source of living, rather, it transcends beyond its purpose. It teaches him lessons and values that enables him to overcome whatever life may bring. ###Written By: Melisen A. Taquiqui