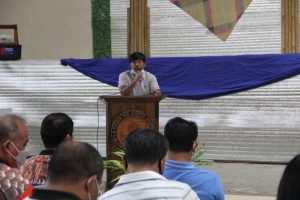 On the first flush of the morning, to avoid the scorching heat of the sun, Ronnie Beltran, "Aka" as they call him, starts working the ground, planting seeds and growing bananas. He is a 38 years old farmer and a community volunteer in a landlocked 4th class municipality at the northwestern part of Isabela, Sta. Maria.
Born of a father who is a farmer in a municipality whose main source of living is farming, the soil in the ground, the seeds, and the grass forms an essential part of his life. Aka considers himself good at it. With hard work in tilting the soil, spraying and cultivating the ground, he produces food for his family, embracing farming as though it is his life.
THE RISE OF KALAHI-CIDSS IN STA. MARIA
The Kapit-bisig Laban sa Kahirapan Comprehensive Integrated Delivery of Social Services (KALAHI-CIDSS) brought change in the municipality of Sta. Maria. Aka's curiosity led him to attend the assembly which, little did he know, would change his life.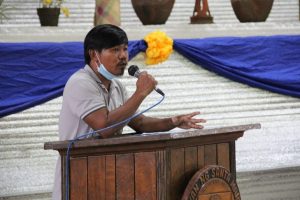 KALAHI-CIDSS is one of the poverty alleviation programs of the Philippine Government being implemented by the Department of Social Welfare and Development (DSWD). It uses the community-driven development (CDD) approach, a globally recognized strategy for achieving service delivery, poverty reduction, and good governance outcomes.
The development objective of the program is to have barangays/communities of targeted municipalities become empowered to achieve improved access to services and to participate in more inclusive local planning, budgeting, and implementation.
As the program employs the CDD approach, the community volunteers, formed a group called the Barangay Development Committee-Technical Working Group (BDC-TWG) groomed to be the key players in the identification and implementation of their sub-projects. This committee is composed of a chairman and its members in the areas of procurement, financial management and infrastructure development.
CULTIVATING LEADERSHIP WITHIN
Throughout his life, Aka has been cultivating soil to produce food for his family. He was used to working alone, solely dependent on himself for his farming, until he attended the orientation of KALAHI-CIDSS where he volunteered to be the BDC-TWG Chairperson for Barangay Poblacion II in their municipality. As the Chairperson, he leads the implementation of the sub-project in their barangay.
"Habang nakikinig ako sa orientation, narinig kong kailangan nila ng volunteers, naisip ko sa dami ng tulong na binibigay ng gobyerno sa atin, ito na ang tamanag panahon upang maibigay ko ang aking pasasalamat sa pamamagitan pag-ambag ng aking trabaho para sa lipunan. Kaya naman nagvolunteer ako para maging Chairperson" (while I was listening during the orientation, I have heard that they needed volunteers. I thought that this will be a great opportunity for me to give back to the countless assistance given by the government, hence, I volunteered to be the Chairperson), he shared.
Aka took the role knowing that being a farmer, this would entail a challenge on his part because he is clueless on the processes to be taken. He was good at cultivating the soil but as he took the task of being the chairperson of BDC-TWG, he knew that he had to cultivate his leadership within him.
Nevertheless, Aka was confident that he can do the job because he knew that the KALAHI-CIDSS Area Coordinating Team (ACTs) are there to guide him and to help him develop the skills and knowledge he needed. He was able to attend the orientations which introduced the processes and mechanisms of KALAHI-CIDSS, and the Capability trainings where the volunteers' distinct roles were elaborated and the standard procedures of social preparation, procurement, financial management, infrastructure development and monitoring and evaluation were also discussed.
Like a sponge, Aka did his best to absorb all the new learnings he needed for the job. He shared that he developed a strong sense of camaraderie, confidence and patience as he started to work with other people. He realized the importance of the role and expertise of each and every person in their committee. As of today, he can already stand in front of a crowd and make a speech, which he does not usually do as a farmer. "Na-build yung confidence ko, yung potential ko na dati hindi ko alam na meron ako lumalabas na."(My confidence was established and the skills and potentials that even I did not know that I have, are gradually being developed) said Aka.
In his speech during the Groundbreaking and awarding of Municipal Block Grants in their municipality, Aka shared, "Para sa akin po ang KALAHI-CIDSS ay isang pag-asa at pagkakataon dito sa Sta. Maria. Bilang isang farmer, nung dumating itong KALAHI-CIDSS wala po akong ideya kung paano gumawa ng project proposal kaya ako po ay nagpapaslamat sa ACTs at Municipal Coordinating Teams (MCTs) sa kanilang pasensya at tiyaga sa pagturo at pagtulong samin para mabuo ang aming proposal. Tinuruan nila kami kung paano magplano at mag team work para maging successful ang isang proyekto ng isang barangay" (the KALAHI-CIDSS gave hope and opportunity in our community. As a famer, I am clueless on the processes to be taken in building a project. I did not know how to draft a project proposal and the like, which is why I am thankful for the patience of the ACTs and MCTs in orienting and training us. Through them, we realized the importance of planning and teamwork in achieving success)
As the community in Poblacion II frequently experience flood after every storm and heavy rains, the community chose the construction of drainage systems to prevent loss of human life, damage to property, destruction of crops, loss of livestock, and deterioration of health conditions owing to waterborne diseases brought by flooding in their area.
Having undergone various trainings and receiving the community block grants, the construction of the drainage systems by the community volunteers with the aid of KALAHI-CIDSS ACTs are now underway.
More than its desire to provide infrastructures that would help alleviate the living conditions of the people, KALAHI-CIDSS' main goal is to empower people in the community. Ronnie Beltran "Aka" is just one of the manifestations that the program in Region II is on track.
Aka believes that he is capable and ready to take on the lead in the implementation of the sub-project in their area. Just like farming, he knows that with proper cultivation of necessary skills, the planted KALAHI seeds within their locality will yield a beneficial and bountiful result. ###Written By: Kayle Angelie Palattao