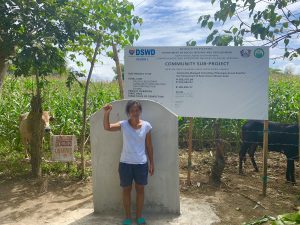 As the heavy drips of rain started to douse off through their gable roof, uneasiness started to creep in. A cup of brewed barako coffee would be enough to warm the cold weather but not for a weary mother whose racing thoughts were of her children – of whether to send them to school traversing through the mud-filed roads or to let them stay at home and miss the chance of learning for a day or two.
Typical mornings of Marie Rose Bangan Mangusib, housewife and a mother of two, were a nice scene to watch. At the onset of rooster crowing just before the dawning of the day, Marie is already in the kitchen, wearing her knitted apron to prepare food for her children. The sound of cookwares were music to her ears as it usually reminds her of another busy day for her as a mother. She would warm water for bath, wake up her kids with kisses, and help them get ready for school. She then continues her day by managing her small sari-sari store, of which her earnings would be enough to get another food on the table for the following day. But of all the mornings, a drizzling one would often spoil her day.
In her forty years of existence, Marie and her community had to endure the long withstanding hurdle of trekking through the muddy and cobblestone road going to the farm. Small droplets of rain would mound loam of soil into grubby pavement with rainwater seeping in, causing farmers and mothers like her to plow and walk through the mud-stretch of road in barefoot. But this hardship was nothing compared to seeing her children go to school in muddy shoes and stained uniform especially during rainy seasons. As an ordinary member of the community, she felt helpless for not being able find solution to their lifelong problem not until KALAHI-CIDSS was introduced in their municipality.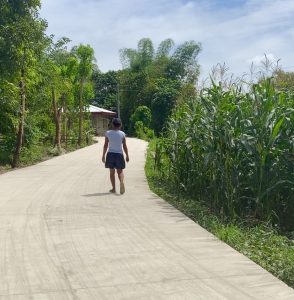 The Kapit-bisig Laban sa Kahirapan Comprehensive Integrated Delivery of Social Services (KALAHI-CIDSS) is a program that employs CDD (Community-Driven Development) approach, wherein the community volunteers, are empowered to initiate and lead the planning, budgeting and implementati
on of their chosen projects through their group called the Barangay Development Committee-Technical Working Group (BDC-TWG). This committee is composed of a chairman and its members in the areas of procurement, financial management and infrastructure development.
Driven by her desire to be of help to her children and to their community, Marie Rose accepted the role of being the Barangay Development Committee-Technical Working Group (BDC-TWG) Chairperson tasked to lead the implementation of sub-projects in their barangay.
Having accepted such role, Marie Rose sacrificed her sari-sari store and her time for her children.  Typical morning scenes as a mother were put aback. She had to take new role which entailed a challenge on her part as a woman since the sub-project identified in their area had to do with concreting of barangay access road which mainly involved manly tasks. Yet her aspiration to pave the way for children motivated her to persevere, to execute her duties properly, and to challenge gender roles.
As an empowered woman she is, she used her motherly nature in supervising the implementation of their sub-project. She attended every meeting, gave paramount importance to the welfare of their laborers. She made sure everyone has enough food and rest. She assured and ensured her presence all throughout the implementation even if it meant having to close her sari-sari store for a couple of weeks.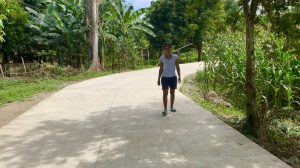 According to Marie Rose, her sacrifices were worth it. She expressed her gratitude to the KALAHI-CIDSS Area Coordinating Team (ACTs) who were there to guide them and to help them develop the skills and knowledge they needed through the conduct of various orientations which introduced the processes and mechanisms of KALAHI-CIDS. The ACTs also conducted Capability Trainings where the volunteers' distinct roles were elaborated as well as the standard procedures of social preparation, procurement, financial management, infrastructure development and monitoring and evaluation were discussed.
"Kaya ko pala, kayo palang gampanan ang pagiging Chairperson" said Marie Rose in overwhelming joy as the project was fully completed.
She was able to lead the group in concreting a 144.5 meter road which made life easier for the residents of Barangay Calamagui West, Sta. Maria Isabela. Through this, their 20 minutes travel was not only reduced to 5 minutes but it made walking convenient for all of them.
Today, even as their mornings are drizzled, Marie can now enjoy a cup of barako coffee knowing that her kids won't miss a day at school. Her children need not to endure the lonwithstanding hurdle of traversing through the cobblestone and mud-filled road as their Mama paved the way for them and hopefully, cemented a better future ahead.### written by Kayle Angelie Palattao.