She is born Shiena Jane Arisga (now Shiena Jane Parocha) out of the passion between the young Jocelyn Arisga and Rudy Parocha on April 23, 2000 at the Province of Rizal. The fresh couple soon married and started to build a family, with 2 more boys added to the brood. But destitution soon deteriorated the love that was the only foundation of the relationship, the couple eventually separated.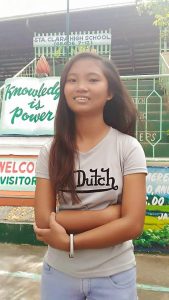 Jocelyn, despaired and helpless gave away the youngest son to a considerably well-off family and took off to start anew, leaving behind the 5-year-old Sheina and her other brother to the care of the father.
Rudy, equally devastated, soon after found himself in the arms of another woman and deposited the children to his mother in Nueva Vizcaya in order for him to finally co-habit with his new partner in Valenzuela, Manila.
Sheina, as a child growing up under the care of her paternal grandmother, is described by relatives as generally withdrawn and awkward around children her age. At school, she only mingles with schoolmates when necessary and prefers to work solo.
Her grandmother struggles to make ends meet, carefully managing the trifle support Rudy regularly sends his children while also augmenting the same with odd jobs that pay by the day. Aid also pours in from teachers and friends, though still not enough to maintain all that is necessary for their everyday needs. With the advent of Pantawid Pamilya Pilipino Program and the burden of ensuring her education lessened, Sheina began to exhibit scholastic aptitude as well as involvement in extra-curricular activities.
"We have noticed gradual change in her behaviour," one of her teachers commented. "Growing up without the guidance of her biological mother, it is understandable that she is boyish and tends to be irritable. I can feel her struggle in coping with her physical and hormonal changes. Yet despite all that her family is going through, I am amazed at her achievements."
A consistent honor student, she is also one of Sta. Clara National High School's leading contenders in inter-school press conferences, quiz bees and intellectual tournaments, her latest achievement being hailed as Nueva Vizcaya province's own 2016 Exemplary Child.
"It's a great honor for the school that she is acclaimed as the Province's own representative in the regional search," Sta. Clara High School's principal noted. "We must be doing something productive." She further jests.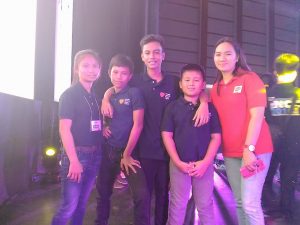 For Sheina, her journey has just begun. She writes thus:
"I will continue to strive hard to fulfil my dreams because I know that education is the key to achieving all that. Being hailed as an exemplary child is a stepping stone for me, and I am proud to have been a part of the Pantawid Pamilya program. It has taught me to be courageous in dealing with the circumstances of life.
Someday, I also want to be able to meet my mother in person. For her to know that despite leaving us, here I am, a successful and strong woman. I want to feel her love, care and guidance still, if only for a short time that we have in this world.
I want to find my youngest brother too. I want to complete everything that is missing in my life. I know now, I can do that. I only need to be the best."
xxx written by Jeanet Antolin-Lozano